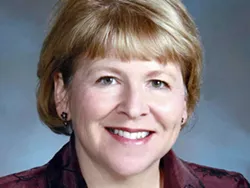 In a blog post today, Washington state Senate Majority Leader Lisa Brown, D-Spokane, wrote that Washington would not follow in the footsteps of Wisconsin, Indiana or Ohio — states that are currently embroiled in battles over the rights of unions.
"I believe unions and collective bargaining were essential to the creation of the middle class and in banning practices such as child labor and sweat shops, abuses that unfortunately still exist in other countries," she wrote. "Today, I see the targeting of public employees as part of an effort to systematically weaken the public sector, the social safety net, and the power of organized workers in general."
In her post, she attacked two bills aimed at state workers' unions, Senate Bills 5349 and 5870, and vowed to make sure they didn't get any traction in Olympia.
As for the importance of unions, Brown says she should know. Not only is she a Democrat, but she studied labor history as a graduate student.