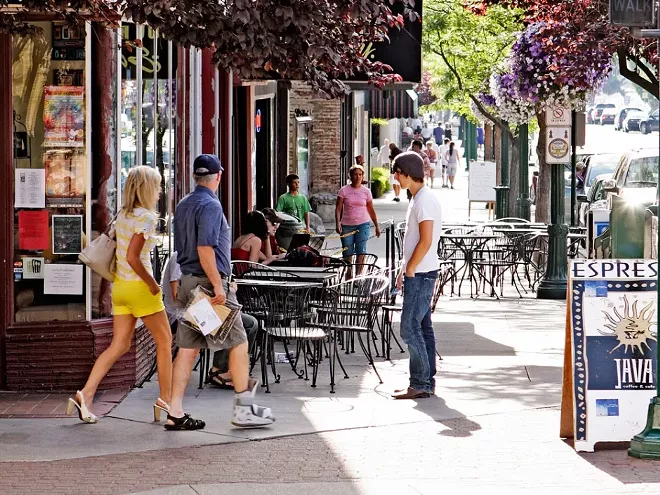 Even through the crowd of Car d'Alene engine builders and rambunctious Bud Light drinkers, smooth instrumental rock flowed from overhead speakers and out the red-framed door of Java on Sherman last weekend. A single MacBook user inside sipped coffee and a couple in plaid rolled their own cigarettes.
On the corner of Fourth and Sherman, Java has always stood out in the Lake City with its inviting character, good coffee and downright hipness.

But now that the coffee shop and people-watching hub is offering beer, wine and appetizers along with its trusted breakfast and lunch fare, it could fill a whole different gap in Coeur d'Alene culture. Java as a bar can be pretty much anything you want, except the bro clubs and biker bars it has as neighbors.
An IPA from a Eugene brewery and a Shock Top (not normally on tap, but a $2 special last weekend, complete with an orange slice) helped soften the edge of the less-than-awesome local rock band that played there Friday.
Black Butte Porter was the perfect dark brew for a quiet, rainy Sunday night, and a glass of wine paired with chips, and piping-hot spinach-artichoke dip was as close to classy as you can get in North Idaho for $7 on a Wednesday.
The "after-hours" menu, served only from 4 to 7 pm, includes chips, dips and flatbreads in the $3-$7 range, and the service then is faster than it is on a busy morning. Java plans to have live music on Friday and Saturday nights and offers happy-hour specials that change every week (last Sunday: $2 PBR).
Beer and wine prices are reasonable; the selection is just enough and changes week-to-week. Any more than the four reds and one white ($4 a glass), and Java is trying too hard to compete with The Wine Cellar across the street. Any more than the six beers on tap and the baristas would be edged out.
Java on Sherman's new offerings won't attract fine-wine connoisseurs or tourists looking for a quintessential dinner by the lake. But it'll do just fine for the college-aged crowd that already spends its days smoking cigarettes and drinking black coffee on the same corner.