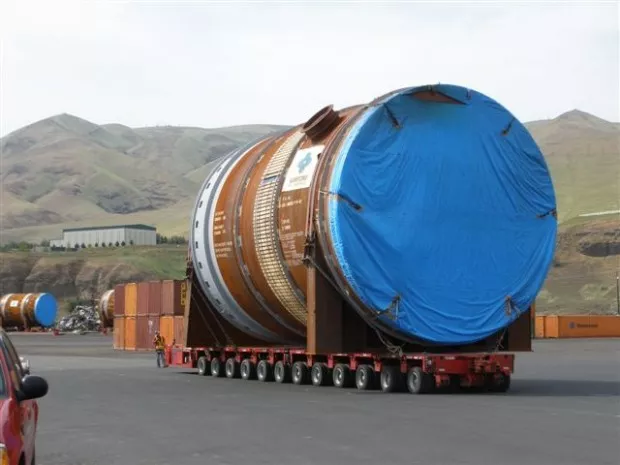 Even with thousands of people flooding the Coeur d'Alene area this weekend for Ironman, the Idaho Transportation Department was ready to let two massive shipments of oil refining equipment pass through town Monday night.
State police weren't.
The transportation department issued permits last week for larger-than-legal loads to travel through Coeur d'Alene as early as Monday, June 27. The shipments are shorter in height than those that have caused controversy throughout the region in recent months (they had to be, in order to fit under overpasses in North Idaho), but state law still requires two officers to escort them through Idaho, says transportation spokesman Adam Rush.
During Coeur d'Alene's busy summer tourism season, and the day after Ironman, it was impossible to find officers to escort the shipments, even overnight (when they are required to travel), says Idaho State Police Patrol Lieutenant Chris Schenck.
The transportation department now awaits a new date request from ExxonMobil, which Rush says will likely be approved.
"This permitting process has flexibility," he says. "It's not set in stone."
Imperial Oil/ExxonMobil has been shipping the huge oil refining equipment from Lewiston to Montana on Highway 12 and on to an oil sands project in Alberta and planned to send the most recent group the same way. Delays on Highway 12 brought the backup Moscow-Coeur d'Alene route to the forefront this spring.
The publicity, lawsuits and protest in response to the loads have caused some safety concerns, Schenck says.
Environmental activists and university students in Missoula protested similar shipments, some sitting in the street in front of the loads until police threatened to arrest them. Moscow citizens marched in protest Saturday after hearing about the permits for the new route through North Idaho.
But Schenck says he hasn't heard of any planned protests in Coeur d'Alene. Instead, the biggest challenges that drivers will face are tight corners on Highway 95.
Terry Harris, executive director of the Kootenai Environmental Alliance, says the group opposes the Alberta oil project, the transport through Coeur d'Alene and the way the state issued the permits. But, he says, there hasn't been enough involvement from the North Idaho public.
He says he doesn't have any specific plans to protest, but he does want to "document" the process.
"That monitoring will be important for the public to decide whether the next 60 megaloads are something they want to accommodate," he says.