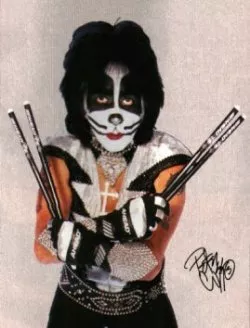 Shell out your hard-earned cash tonight: KISS is in town, folks. Gene Simmons is in our midst! Paul Stanley! And some other guy being Catman. Being the big KISS: eXposed fans that we are over here, we think you should go for the $98 tickets to get a good look at the band's stage antics up-close. Read our story on the band's lasting impact on stage-shows (in good and bad ways), and get over to the Arena by 7:45 pm, when the show starts. All-ages.
SATURDAY!
Your post-Hoopfest music options are plentiful. If you're really a hoopster, you'll probably want to hit the Lincoln Center's Hoopfest Saturday Night, featuring music by DJ Freaky Fred at 9 pm. Apparently Ronny Turiaf and Nate Robinson will be there! And five bars! It's $15 at the door — and if you want extras like VIP tickets, table seating or limo service (yeah, seriously), you gotta call the Lincoln Center at 327-8000. Gotta be 21 for this shindig.
Perhaps you are an anti-hoopster. Then you're probably going to want to be at Mootsy's, where the "Dead Hoopster Dance Party" will be happening, featuring the party indie-pop of Missoula's Sick Kids XOXO, DJ Likes Girls and MG of Dead Hipster. Because we ended up at one last summer, we know that Dead Hipster is code for Missoula's totally insane dance parties. So take our word for it: Go, dance, sweat. 9 pm. $3. Gotta be 21.
Get away from the downtown Hoopfest insanity by heading out early tomorrow to Northern Quest, where the first of a series of summer outdoor concerts — featuring the Judds — will be going on. Check out our story on the new venue here to get a little taste of what they've got going with the new spot. Tickets to see the Judds are $70-$125, and the show starts at 7:30 pm. All-ages.
Over at Jones Radiator, you can check out a North Idaho boy who has seen a bit of a fame overseas recently. Drew Piston bears an uncanny resemblance — musically, speaking — to Tom Waits. He's a powerful singer and songwriter, telling tales from the different perspectives of his characters. It's a free show and starts at 9 pm. Gotta be 21.
And if you're down to maybe get punched or get your toes skated over, head on over to the Hop! for a post-match party and fundraiser for the Spokanibals Roller Derby Team. Music by the Camaros and Crimson Resolve. Kicks off at 11 pm. That one's all-ages.
It's sold-out now, but if you can get tickets, check out The Civil Wars, a stripped down folk group whose music has appeared on TV shows like Grey's Anatomy, play A Club on Saturday night with Rayland Baxter. 8:30 pm. All-ages.
SUNDAY!
Check out the naughtily named STRFKR (or Starf*cker … we've seen it both ways), who have rolled through the Kan before, at A Club on Sunday night. They'll be playing from their 2011 album, Reptilians — which, if you like MGMT, you'll probably love rocking out to. They play with Jazz and Bandit Train at 7 pm. All-ages. $10-$12.
And if you haven't been to East Sprague yet to check out music at the Checkerboard Tavern, you might give it a try on Sunday when Man Your Horse, from Vancouver, BC, plays its brand of experimental rock. $5. Gotta be 21.