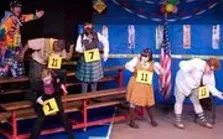 UPDATES APPEAR BELOW
In two hours or so, we'll know how Spokane Civic Theatre's entry in this year's American Association of Community Theatre national festival will have done.
Janice Abramson, producer for director Kathie Doyle-Lipe's production of The 25th Annual Putnam County Spelling Bee, just called to say that the group is on their way to the AACT's awards banquet in Rochester, N.Y.
The "Bees," as the cast and crew call themselves, had a rough journey just to make it to Rochester: storms, flight delays, entire nights spent on cots in the Chicago airport, everyone arriving in dribs and drabs, the festival's schedule rearranged to suit the needs of the poor contingent all the way from Spokane who nearly didn't make it ... you get the picture.
And ad-lib during last night's not-entirely-glitch-free performance in competition brought the house down: Where was one of the fictional spellers? "He couldn't make it tonight ... he's somewhere in Chicago, sleeping on a cot."
Spelling Bee is up against the following shows:
The Bear, from Newton, MA; Hauptmann, from Mons, Belgium; The Gin Game, from Broken Arrow, OK; Sunday in the Park with George, from Bradenton, FL; Wiley and the Hairy Man, from Cloquet, MN; The Zoo Story, from Newark, DE; Parallel Lives, from Evergreen, CO; Second Samuel, from Wetumpka, AL; Check Please, from Chino, CA; Dog Sees God: Confessions of a Teenage Blockhead, from Grapevine, TX; and Urinetown, from Midland, MI. Visit aact.org.
Fingers crossed for all the cast and crew. The awards banquet starts in 15 minutes! (Our on-scene reporter is Janice Abramson.)
UPDATES:
There is no joy in Rochester-Mudville.
While the Civic's production of Spelling Bee received five nominations — winning in two of those categories — it nonetheless did not place among the top three shows at AACTFest11.
Nominated without winning were Mark Pleasant (as Leaf Coneybear) for Best Actor, David Baker for Best Lighting Design, and the entire cast for Best Ensemble.
Lacey Bohnet (as Olive Ostrovsky) won the Best Supporting Actress award, and Nancy Vancil won for Best Musical Direction.
Third place in the Best Production category went to the Sondheim musical from Florida; second to the Urinetown from Michigan; and the overall winning production came from Grapevine, Texas: Dog Sees God: Confessions of a Teenage Blockhead.
Well, Spelling Bee was an outstanding show, anyway. Congrats to all (especially after the horror stories about just getting to Rochester in the first place).
Note correction above: Earlier, the name of the Best Lighting Design nominee was incorrectly listed, as was the category for Nancy Vancil's win. Sorry. They're correct now.