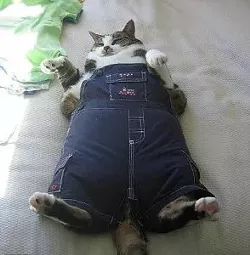 TONIGHT!
Anyone with even a slight inclination toward indie rock should hustle just as fast as their tight jeans will allow to A Club for Blitzen Trapper, the Fruit Bats, and Ages and Ages. While the Fruit Bats hit this area quite a bit, it's kind of a big deal that Blitzen Trapper is here. So cough up the $12 and be there by 8:30 pm. People of all ages are welcome.
A mere 50 feet from the indie rock head-nodding-fest will be the psychedelic-electronic rock-fest at Mootsy's, with Space Movies, Odyssey, monuments and Mecha Shiva. Go and get your mind all kinds of blown for the low, low price of $3. Show up at 9 pm and be 21 or over.
SATURDAY!
Check out the all-ages action with Among Thieves, Ashylus, To The Wind, Of Kinds, Light Up The Sky and What We Once Held. Show up at 5 pm and pay the man $5. (That's like 83 cents a band!) Later, all those over-21 folks can check out the seemingly homeowner-themed show featuring Mansions and Fences, who we wrote about this week. That one will cost you $5 in advance or $7 at the door and the yardwork music begins at 9:30.
At the Baby Bar you can see Mirror Mirror, Bronson and a very, very silly band called Nucular Aminals, who we also wrote about this week. The show starts at 8 pm and will set you back $5. You must be over 21.
If you didn't get enough Fruit Bats last night, go see them again at the Belltower in Pullman. They are playing with Grant Olsen, and possibly the most delightful band the region has seen, the newly-reunited Holiday Friends. They are good. 7 pm. $10 in advance, $13 at the door. All-ages.
If you have a shit-ton of money, go see Soundgarden, Queens of the Stone Age, Mastodon and the Meat Puppets at theGorge. The show starts at 6 pm and tickets are $85.50-$500, depending on the legitimacy of the website you purchase them from. Good luck, rich kid.
SUNDAY!
Willie Nelson, the now-braidless magical outlaw country man will be at the Northern Quest Casino and Resort. Show up at 7 pm. Tickets will set you back $55-$100. Don't bring guns, please.