OK. Not really. She's only losing part of her district.
A bipartisan plan on how to fit 10 congressional districts into our tiny state was unveiled today, and some big changes are in store for our congresswoman, Rep. Cathy McMorris Rodgers. As she faces re-election this year, she'll have less land to roam around in.
Here's what the state's districts have looked like for the past decade: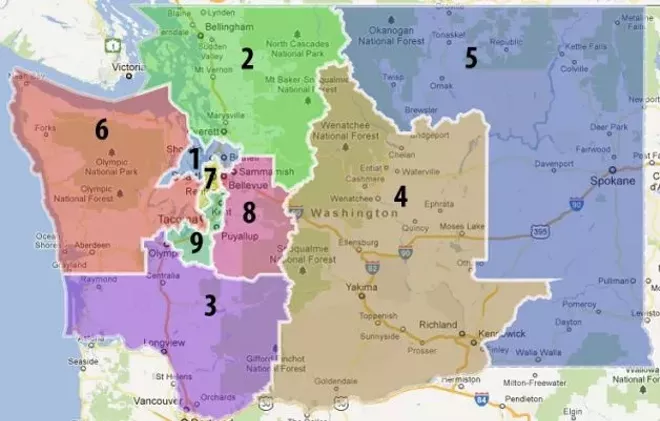 Here's what they'll look like starting next year:
The reason for the change is the bump in population reflected in the recent Census. Most of the growth was on the West Side, which is the reason for that strange Eighth District crawling over the Cascades. (Spokane's City Council districts, and the boundaries for county commissioners, are also changing.)
It's unclear how the change will affect the voting patterns of McMorris Rodgers district, but a quick read could say the proportion of left-leaning voters might have increased a smidge. But given the congresswoman's blowout wins the last couple of cycles, she's probably safe.
(Images from the Seattle Post-Intelligencer)