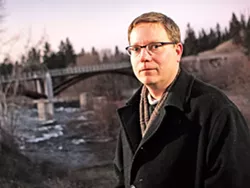 Rick Eichstaedt is a well-known environmental lawyer who has long thrown his cards in with the progressive activist community in Spokane.
Today, he doubled down by accepting the role of executive director at the Center for Justice, the epicenter for progressive politics in the Inland Northwest.
"I've been at the Center for seven years," Eichstaedt, 39, says. "I've seen a litany of changes. I've seen the difference the Center makes in this community."
Eichstaedt has been a key part of the center's Riverkeeper program, which is part of an international alliance dedicated to protecting the world's waterways. He founded the Spokane chapter under the aegis of the Center for Justice. When his friend and colleague Michael Chappell, 44, unexpectedly died last year, Eichstaedt helped lead Gonzaga's Environmental Law Clinic, which Chappell ran. The law clinic has historically worked closely with the Riverkeeper.
Jim Sheehan, who founded the Center more than a decade ago, has been acting as executive director since Breean Beggs stepped down in 2010.
"So much of this town and so much of what we do is about relationships," Eichstaedt says. "The advantage is I'm familiar with what the Center does. 'Rick. We know him. We know what he does.' Dealing with elected officials and with supporters won't be as difficult."
Part of Eichstaedt's charge will be navigating the way forward with the Center, he says.
"The Center for Justice board has been thinking about how we stay sustainable and present in the community," he says. "It's tough times for nonprofits. How do we stay and become more sustainable?"
Eichstaedt's duties will include everything from "fundraising to management to doing other things that executive directors do."
But he'll also stick with the activism, he says. Not only will he keep championing the Center's environmental priorities, but he'll "pound the pavement for police accountability."