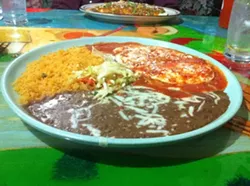 One of the ways my brother, Shane Baumgarten, feels his race most intensely is at Tex-Mex restaurants.
In the same way he walks into a coffee shop full of white people and feels the heat of their eyes, he sits down in a booth at a Mexican joint and feels embarassed when a waiter addresses him in Spanish and "I just have to be like, 'Sorry buddy.'"
Shane told me this at a Mexican restaurant in Hayden Lake, Idaho.
I interviewed Shane for about 10 hours in all and 4 of those hours came while he and I were driving around North Idaho looking that most Tex-Mex of breakfasts, Huevos Rancheros. (The THROWDOWN is in the paper this week)
The irony and cultural dissonance was not lost on him.
There are a lot of moments of dissonance like this in his life. When he tells people how into Anime he is — the iconically Japanese form of animation — people look at him like, "why don't you like mariachi?" Or telenovellas, or some other thing that Americans think of as iconically Mexican.
It's not weird for white people to hate country, but it's totally weird for a Mexican kid to not like Lucha Libre.
A personal moment of dissonance came for me a few years ago, during a trip to Stockton, California, the town our dad grew up in. It's a racially diverse, relatively poor city about the size of Spokane.
We were sitting with members of our extended family in a Mexican joint when talk turned to the economy of the San Jaoquin Delta. The Baumgartens remaining in California seemed to all agree that the extent to which things were shitty in the area was due completely to "the Mexicans."
The irony of this is that they're all half-Mexican.
To be fair, I don't believe they meant all Mexicans, I think they meant immigrant Mexicans, but that too ignores the fact that their grandparents were, pretty recently, those very same, crushingly poor immigrants that came north looking to better their lot.
As the conversation kept on, I couldn't help think of the way race and culture and identity are very different things.
I thought of that again as Shane and I were driving up and down the panhandle looking for eggs in chile sauce. My brother's chief struggle is that, while culture and personal identity are malleable — completely transformable in some ways — race just sits there on the skin, inviting people's scrutiny.
And granted, it's true that sometimes food is just food. More often, though, it's part of a dense, meaningful, and fraught cultural tapestry.
At Toro Viejo in Hayden Lake, the music on offer was that pitchy, poppy pseudo-mariachi music that seems to play at every "Family Mexican" restaurant in America.
I made some reference to it, saying how it almost sounded like a mix of country music and, with the accordions, polka. I wondered the extent to which this stuff is true to the Mexican experience and Mexican culture, and how much of it is a Disneyland version for white people.
Shane shrugged and shook his head. "I really don't get any of it."