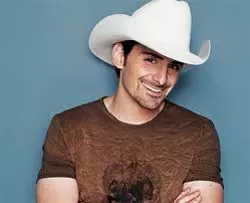 We love us some country music here in the Inland Empire, as evidenced by this weekend's sold-out show by Randy Travis, who incidentally was just arrested for drinking wine ... in his car ... in a church parking lot ... at 1:30 am on a Monday. But if you're a pop country fan who didn't or couldn't get tickets to Travis' show, you'd be better served hitting up the Spokane Arena on Thursday night for the sweet twang of Brad Paisley's guitar.
Sure, he looks - and sometimes sounds - like the rest of the big-hat crowd, but where Paisley sets himself apart is in his ability to play the living hell out of his instrument. The verses and choruses of a Paisley cut are rather standard country fare, but when he opens up his rock chops for a guitar solo, hold on to your Wranglers, people. The guy can totally wail, making him respected far outside of the often-insular country music world, as evidenced by his appearance on "Prairie Home Companion" with Garrison Keillor last month.
And, from what we know, he rarely, if ever, is found drinking wine in a church parking lot.
Brad Paisley will perform with the Band Perry, Scott McCreery and others tonight at 7:30 pm at the Spokane Arena, located at 720 W. Mallon Ave. Tickets are $27.75-$59.75. Visit spokanearena.com for more information.