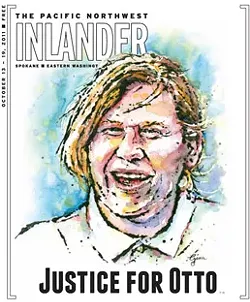 The civil case brought against the city of Spokane for the death of Otto Zehm is headed to mediation, the city says today. If the mediation is successful, the case will not go to court, skipping what could be a costly step for both parties.
Here's the full statement:
Spokane Mayor David Condon and the Center for Justice today announced an agreement to enter into mediation in the Zehm civil case, Estate of Otto Zehm, et. al. v City of Spokane, et. al. Mediation sessions are expected to be held in the near future.

"It's time to move this long-standing case toward resolution, and mediation provides a tremendous opportunity to resolve this case outside of court," says Mayor Condon. "Resolving the Zehm suit is a high priority for me and our community."

"The Zehm family believes that mediation is the most constructive way to move forward towards resolving this dispute," says Breean Beggs, of the Center for Justice which represents the Zehm estate.

Mediation is a form of alternative dispute resolution that uses a third-party mediator to negotiate a settlement between two or more parties. A mediator will be named in the case soon.

The Zehm civil case was filed in early 2009. In recent weeks, the City and the Center for Justice have had settlement discussions. The parties agreed that mediation was the next logical step in working toward resolution in the matter.

The parties also have agreed that maintaining the confidentiality of the process will enhance the ability to reach a resolution. All parties have agreed that they will not respond to inquiries about the mediation as it proceeds.