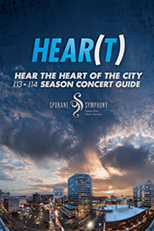 If you're the type who doesn't plan out concert-going until the last minute, check out This Weekend in Music. But, if you like to plan ahead, you'll be glad to know the Spokane Symphony announced its 2013-14 season, beginning next September, called "Hear the Heart of the City."
It looks like there's lots of excellent Mozart, Tchaikovsky, Schumann, Beethoven, Rachmaninoff and so forth. But there's also a classics concert devoted to music of the Americas, and the SuperPops series includes cameos from American Idol finalists and a concert devoted to popular videogame music.
You can buy season "subscriptions" to the different concert categories now, and tickets to individual concerts will be available in August.
There's also a whole lineup of outdoor summer concerts and First Friday events. You can check out all of it on the Spokane Symphony website here.