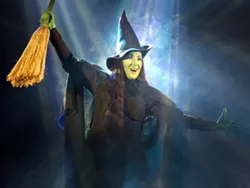 At this afternoon's announcement event for the 2013-2014 season of Best of Broadway, perhaps the most exciting news wasn't even about
this
season.
Rather, it was news — reserved for the very end of the program, which included live performances from both Sister Act and A Million Dollar Quartet — that West Coast Entertainment, the company responsible for bringing the Best of Broadway series to the INB Performing Center, had booked the outrageously popular Book of Mormon for a performance sometime in the spring of 2014.
That news, although enough to get more than a few squeals from the younger folks among the several hundred season ticket holders, members of the press and sponsors at the Monday afternoon event, didn't overshadow what's looking like a strong 2013-2014 season. I mean, hey, they're bringing Wicked back to Spokane!
Here's how it's shaping up:
Anything Goes: Oct. 10-13
Million Dollar Quartet: Dec. 12-15
Hello Dolly: Jan. 30-Feb. 2
Sister Act: March 27-30
Wicked: May 7-25
There's also a schedule of other one-night events, including a pre-holiday appearance by Mannheim Steamroller (Nov. 23) and a somewhat surprising booking of Green Day's American Idiot (Nov. 10).