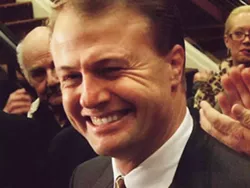 Anti-tax activist Tim Eyman announced his latest project today. The new initiative requires every November ballot to include an advisory vote on whether voters support a constitutional amendment requiring a legislative supermajority to raise taxes, with the goal of pressuring the legislature into putting such an amendment to a public vote.
Eyman's PAC, Voters Want More Choices, announced the new effort in an email today. Eyman is well known for pushing initiatives in nearly every election cycle, most notably the supermajority law, requiring two-thirds of the state Legislature or a public vote to approve raising any taxes. Because the Legislature can annul new laws after two years, Eyman has put the measure on the ballot repeatedly. It passed for the fifth time last fall, but was then struck down as unconstitutional by the state Supreme Court in February.
"We were angry when House Democrats, cheered by the Governor, sued the voters to overturn this voter-approved law. We were furious when 6 judges took away a protection that 1.9 million people supported," Eyman writes in the announcement. "But when you really think about it, they probably did us a favor because we were never going to get a permanent solution (a constitutional amendment) until the temporary solution (a law) was no longer an option. That's where we're at now."
The new initiative keeps the annual approval for tax increases on the ballot and makes all tax increases imposed by the legislature after Jan. 1, 2013, temporary, limiting their duration to one year. It would also require the state voters' pamphlet to include how the governor and legislators voted on tax bills. The policies would all expire once a constitutional amendment requiring supermajority approval for any tax increases appears on the ballot.
Here's the full initiative text, from the Washington Secretary of State's list of proposed initiatives for 2013: