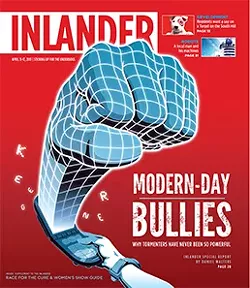 If you needed any more evidence that bullyinghas become a prime topic of concern among high school students, look no further than Ferris High School.
Seven or eight years ago, Ferris theater arts director Mary Cooper says, she took a class on service learning at Gonzaga University. It inspired her to create Project Hope (not to be confused with West Central's Project H.O.P.E.), a big project where students research a topic, write and direct plays, sell tickets, and use the proceeds of the sale to fund a worthy charity.
The first year, the students picked decided to tackle the problem of teen homelessness. But this year, they chose bullying.
"They're tired of seeing it in their schools," Cooper says. In February, Ferris High School was hit with one of the most vile anonymous Facebook pages in the region.
And so Ferris drama students began writing plays. Two, Snow White: Bullying Never After and Don't Touch Me (a short film), arewritten and directed by students. The third performance, Thank You ForFlushing My Head In The Toilet was written by high-school centeredplaywright Jonathan Dorf, and directed by Cooper.
Currently, Ferris High School is not part of the "See it, Say It"anti-bullying program that other high schools, like Rogers and North Central,have used to tackle bullying. But these plays will carry a similar message."Don't watch [bullying], don't participate in it, get help," Cooper says.
Last night was the premiere, but tonight and tomorrow there will be two moreperformances. Tickets are $5. The show starts at 7 pm, in the Ferris High Schoolcommons.