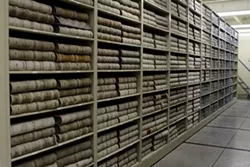 A few weeks ago, dozens and dozens of heavy old books were carefully transported from the Spokane County Courthouse to the Eastern Regional Branch of the Washington State Archives, out in Cheney.

For our upcoming cover story on family history and digital records, I got to tour some of the places where the old records are kept, and I happened to see both where the books came from and where they are now.
These days, with billions of records scanned and indexed online, researchers don't spend as much time driving to various archives and combing through original documents. But the originals are still protectected and available somewhere, and one of those places is the state archives branch out on the edge of the Eastern Washington University campus.
The mission of the state archives system — which includes five regional branches and a first-of-its-kind digital archives, housed in the same building as the Eastern Branch — is to preserve the state's public records and provide access, with an emphasis on stewardship.
"These are the people's records," state archivist Steve Excell told me. "They belong to the public."
To do this, the archives also works with local governments and agencies to determine which records should be preserved and collect them. My guide, archival assistant Lee Pierce, told me they have to be careful about the materials they accept — once they're accepted, it's for keeps.
The following Monday I got to visit County Auditor Vicky Dalton at the Spokane County Courthouse, and she showed me where the deed books had been kept there. The vault is secured, but not without risks for paper records. Wires lace the ceiling and pipes hang above the shelves. Dalton is sad to see the books go, but confident it's for the best.

"They're in a better place," she says.