The Gorge has been taken over for the holiday weekend by indie rockers, overpriced beer vendors and my flower-headband-wearing, vodka-downing peers. (And all the others Culture Editor Mike Bookey told us about last week.)
The sounds (waking up in the campground to my neighbor singing, a cappella, Foreigner's "Hot Blooded"), sights (a young woman vomiting in a garbage can while passersby continued to throw away their trash there) and smells (see last anecdote — plus, curly fries) are exactly what you're imagining.
But so far I've seen Vampire Weekend send a crowd of hipsters into a dancing frenzy, Nick Offerman (you know, Ron from Parks and Recreation) shirtless and giving life advice, and indie supergroup Divine Fits shred as night fell. Worth it.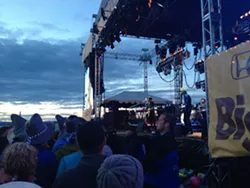 (We've included some of his iPhone photos here, but look for a post next week of all the best close-up, high-res photos freelance photographer Nick Gast has been snapping throughout the weekend.)