We have great music here. I mean, we host Bassoonarmama. Pretty dope stuff. It's so good, in fact, that it has been (mostly) restricted to only the adult crowd. That is why today, I am both delighted and slightly saddened to bring you this weekend in music. Enjoy it for me. You all-ages cats, there's a small light at the end of the tunnel.
FRIDAY
We're not sure what high school kid can afford a ticket to the Gorge's bassfest,
Paradiso Festival
, but judging from the pictures, there are a shitload of youngsters with bank accounts far bigger than ours. Some 20,000 EDM fans came out to the 2012 festival, making it the largest electronic music event in the Northwest. This two-day festival is a sampler of all things bassy, neon-colored, glow-sticked and hip in the club world today, with some of the biggest DJs on the planet appearing. Kaskade and Dutch DJ Tiesto split the headlining slots each night.
Fri, June 28 and Sat, June 29 at the Gorge Amphitheatre
Baby Bar, My Pinky Has a Name, Kwaaang, BBBBandits (21+)
The Center, Luke Dowler and the Savage Gentlemen (All ages)
The Scoob, Stephanie Hatzinikolis (All Ages)
SATURDAY
click to enlarge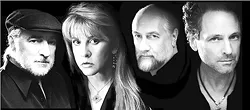 Fleetwood Mac comes to the Arena: In 1976, as the band recorded its legendary album Rumours, each member was experiencing something horrible: infidelity, divorce, breakups, bad press. But out of the darkness came a record that spoke to pop and rock fans in a way that few others could. Flash forward to today: the band has experienced the deaths of three different key members over the past two years. Like they've always done, Fleetwood Mac turns to music to recover. Sat, June 29, at 8 pm at the Spokane Arena, $28-$126
Checkerboard Bar, Sea Giant (21+)
The Center, Battle of the Bands feat. Dirty Shirley, Dank Submission, The Stagnant Motion, The Backups,
Knuckle Deep, Outlier, Move the Earth (All Ages)
Boomers, Cold Shot (21+)
The Cellar, Kosh and The Jazz Cats (21+)
Sidebar, Maxie Ray Mills (21+)