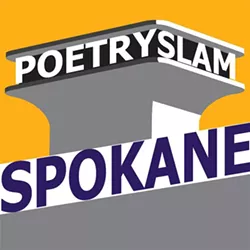 Five of Spokane's best poets are heading east to compete at the
National Poetry Slam
in Boston in mid-August. In order for our talent to get there, a
fundraiser and showcase will be held at Auntie's Bookstore
tomorrow at 7 pm.
Spokane Poetry Slam is one of more than 70 teams
from the U.S and Canada competing this year. The finalists will show off their stuff, giving us a sneak peak of what they're bringing to Boston, and a percentage of all sales at Auntie's will be donated to the team.
So, what exactly is slam poetry? Slam poetry is spoken-word performances of original poetry that can sometimes closer resemble a rap battle than a recitation of a traditional sonnet. Contestants usually get 3 minutes to woo judges who are randomly picked from the audience.
The Slam New Orleans team won last year's National Poetry Slam competition with "Mama Ain't Seen."