Located just west of downtown is a neighborhood called Peaceful Valley. In it is a place called Glover Field, which has a long, rich history. This little field in this little neighborhood will be the home of KYRS MusicFest this Saturday. Wait, what is Peaceful Valley? Where's Glover Field? And a music festival?
Home first to the Spokane Indian Tribe and later Scandinavian and Danish working immigrants, the area now known as Glover Field has changed a lot in a century. In 1912, the city of Spokane bought 2.29 acres of land along the River. This land soon developed into a venue used by local high schools for track meets and football games. The grassy ground, which now sits between the Monroe and Maple Street bridges, also became a place for fairs, carnivals and other shows.
In 1917, the field was officially dedicated to one of Spokane's founding fathers, James N. Glover, but the land became fallow as area high schools began building their own sports complexes. The bleachers were dismantled in 1937, and it wasn't until 1950, with the construction of the Peaceful Valley Community Center, that Glover Field became something special again.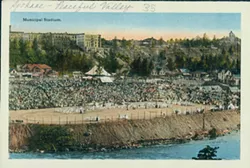 The community center still stands at 214 N. Cedar today, and since 1950, it has seen tons of bands, festivals and community events in its backyard. The '80s and '90s were particularly special decades for the often-overlooked space on the edge of town.
I bet this is a band you might know: Green Day. Well, they played there in a 1991 event called Peaceful Valley Jam before they were even much to talk about. Now they're surely considered one of the best punk-rock bands of all time. Adding to the mystery of this forgotten field, only a three and a half minute video clip prove they were there that year. But it happened. (KYRS previously had the clip posted, but apparently took it down.)
Now, KYRS radio station is bringing perhaps the biggest event ever to Glover Field: a musical festival. The festival features nine bands, headlined by Grammy-nominated Menomena. For just 15 bucks, you can enjoy a day and night of music, yoga, hula hooping, beer and other family-friendly activities. (I guess the beer part isn't family-friendly. But hey, kids under 12 get in free.)
This Saturday, KYRS gives you the chance to enjoy a true hidden gem that's full of history. Just do some good Google Maps work before you head down.