If you were out near the Little Spokane River today, chances are you noticed that the water appears to be red. Don't worry, it's not the beginning of the 10 biblical plagues and it's not a dead animal either. Scientists from the Washington Department of Ecology poured red dye into the river early this morning.

"It's significant and you can really see it," says Brook Beeler, communication manager for the Washington Department of Ecology Eastern Region Office.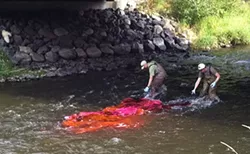 The red dye will help scientists detect how fast the water is flowing, aiding in an effort to study the dissolved oxygen and pH levels in the river. Parts of the Little Spokane River don't meet water quality standards for dissolved oxygen and pH, a media release explains, which endangers fish and other aquatic life.
The dye will help scientists understand the issue in order to better the quality of the water. It was poured near where the river meets U.S. 395 this morning and will flow with the river, ending approximately near Saint Georges School. More dye may be added later on tonight into the river near Camden, Wash., ending at the same place. The reddish tint lasts about 8-10 hours, and does not have any effect on the health of humans or aquatic life.
A video from Ecology shows how it works: