Halfway into 2013 and four years since the recession officially ended, national unemployment rates are falling, but slowly. This past week's print issue includes these charts about Washington's unemployment trends, from seasonally adjusted data from the Bureau of Labor Statistics and the Washington State Employment Security Department. Spokane's rate — which fell below 8 percent this summer for the first time since 2008 — is slightly higher than the national rate, but has been following the same trend of slow recovery.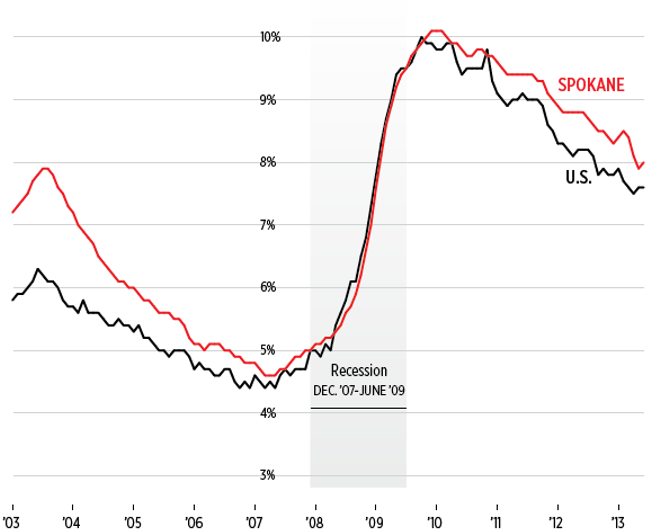 The unemployment rate in Spokane has been higher than the rate in Washington state as a whole since 2011, but most of Washington's recovery is in the Seattle area. Without Seattle, the state is on par with Spokane.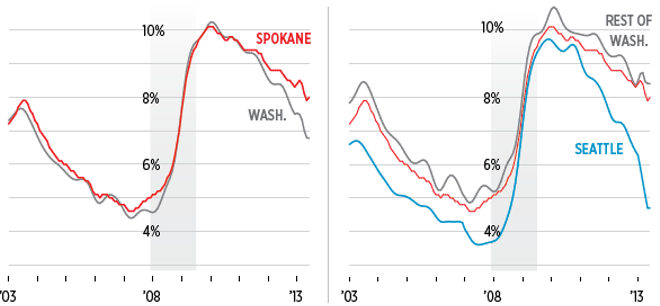 In Idaho, the unemployment rate has been lower than the national average in recent years. The rate in Coeur d'Alene has been higher than the state as a whole since the recession, mostly because of lower unemployment in the Boise area.