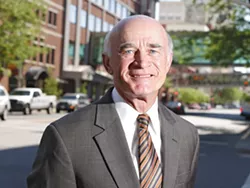 Greater Spokane Inc. President Rich Hadley will resign in April, the organization announced today.
Hadley, 66, has been at the helm of the regional chamber of commerce and economic development group for two decades.
"It's time for the organization to have its next generation of executive leadership," Hadley said in the statement. In the announcement, GSI Board Chair Jeff Philipps credited Hadley with improving GSI's relationship with local governments and helping medical education in the University District become a reality.
In a hurried phone interview this afternoon, Hadley told The Inlander that as the organization plans for the future — they'll discuss "the next big thing" at a retreat this week, he says — leaders should know he's not planning to stick around for much longer.
"I love my job. I'm in good health. I could stay another couple years," he says. "But I could also hike in Grand Teton, I could camp with [my wife] in the Grand Canyon, we could do a monthlong trip down the California coast."
The group will find Hadley's replacement through a national search. According to the announcement, Hadley "has outlined a month-to-month timeline of search committee activity leading to a new CEO selection."
Hadley isn't willing to say what he think GSI may take on in the future or give any advice to his successor.
"It's too soon for that," he says.
Hadley's age has been corrected in this post. He will be 67 at the time he steps down, but is now 66.