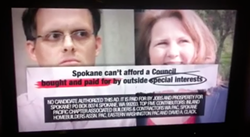 If anyone is still arguing that
the race
between Candace Mumm and Michael Cannon for the 3rd District Spokane City Council seat isn't a proxy battle between conservative Mayor David Condon (on Cannon's side) and liberal Council President Ben Stuckart (backing Mumm), their claim just got a little trickier.
Not only has the mayor endorsed and donated to Cannon — and Stuckart has done the same for Mumm — but a new ad attacking Mumm was paid for in part by a
political action committee
run by Condon's campaign manager, Tyler Whitney. And while the Eastern Washington PAC is separate from Cannon's and Condon's campaign committees, Whitney says Condon helps fundraise for it.
The ad states it was paid for by a PAC called Jobs and Prosperity for Spokane, whose top five contributors, according to the ad, are the Inland Pacific Chapter of Associated Builders and Contractors WA PAC, the Spokane Homebuilders Association PAC, the Eastern Washington PAC and David A. Clack. Because of filing deadlines, contribution and spending records for the groups from the state's Public Disclosure Commission do not yet reflect donations from those PACs to the new "Jobs and Prosperity for Spokane" or that group's spending on this ad. The next filing deadline,
according to the PDC
, is Tuesday. Whitney refused to disclose how much the ads cost or how much his group had donated to them. Adam McDaniel, campaign manager for Councilman Jon Snyder, also targeted in the ad, says he believes they cost between $45,000 and $65,000.
The PAC was established last year and has since donated to the campaigns of conservatives, including: Councilwoman Nancy McLaughlin, who's vacating the seat Cannon and Mumm are vying for because of term limits; gubernatorial candidate Rob McKenna; and County Commissioners Todd Mielke and Shelly O'Quinn.
"The purpose of the PAC is to support job-friendly and economic-growth-friendly candidates and measures," Whitney says.
The ad also targets left-leaning Snyder, who's being challenged by former state Rep. John Ahern, criticizing his votes on tax issues and his and Mumm's support from unions. In response, the Snyder campaign sent out an email to supporters today saying "See what Citizens United looks like in Spokane" with a message from McDaniel, saying, "I've seen serial killers get better treatment on TV."
Here's the ad: