Welcome back to
Weed Wednesday
, your weekly dose of pot news. Wondering what this is about?
Click.
Looking for our previous marijuana coverage?
Click.
Got a question or tip? Email me at jaket@inlander.com
If you ever wonder if medical marijuana (more specifically, medical marijuana for soldiers suffering from post-traumatic stress disorder or brain injuries) can be bipartisan, just look to Washington state Rep. Matt Shea, R-Spokane Valley.
A freedom-loving, gun-toting, self-professed "Constitutional conservative," Shea gave an impassioned speech on the House floor last month against a bill that would require m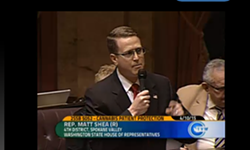 edical marijuana patients to register with the state. In the same speech, he mentioned that medical marijuana could help returning soldiers struggling with PTSD.
"Addressing that issue in the right way with medical marijuana, in some cases, dramatically reduces suicide rates," he said, citing research showing that the substance can reduce deaths among veterans.
PTSD and traumatic brain injuries are now qualifying conditions for medical marijuana under a marijuana reform bill that passed the Washington State Legislature.
However, Congress isn't as eager to get returning soldiers some weed.
Last week, the U.S. House of Representatives narrowly voted down an amendment to an appropriations bill that would allow Department of Veterans Affairs hospitals to discuss medical marijuana with patients, reports
The Hill.
"Why in the world would we give a drug that is addictive, that is prohibited under Schedule I, that is not accepted for any specific mental disease or disorder and enhances psychosis and schizophrenia, why are we going to give that to our veterans, especially those with PTSD? That is just absolutely insane," said Rep. John Fleming, R-La., a physician, according to the paper.
Medical marijuana supporters were predictably bummed.
"While it's disappointing that the House just voted to continue a senseless rules that prevents doctors from treating military veterans with a medicine proven to work for a number of serious conditions, the fact that we came so close is a good sign of things to come," said Tom Angell, chairman of the Marijuana Majority in a prepared statement.
Here's the news elsewhere:
"For every one joint of marijuana, four teenagers become burdened with pregnancy. And for every bag of marijuana candy sold, it seems 16 violent crimes in the 16-to-45-year-old cohort break down."
That's from a fake news article
.
D.A.R.E.
thought it was a real
article.
Some members of Congress think that the disturbances in Baltimore
have something to do with the drug war.
Tesla, the maker of upscale electric cars, has developed a futuristic battery that can be used in the home. It'll also be great to
grow weed with.
A woman in Missouri is arguing that a "right to farm" enshrined in the state constitution
extends to her marijuana crop.
A
bill in Congress to help the marijuana industr
y more easily access banking services faces an uphill battle
Colorado Gov. John Hickenlooper, who opposed legalization of pot in marijuana, is now saying
it's not such a big deal after all.