Inlander photographer Young Kwak is traveling with a crew from Fairchild Air Force Base to the Transit Center in Manas, Kyrgyzstan. We will be posting updates and photos during his trip, and you can also find his photos on Instagram.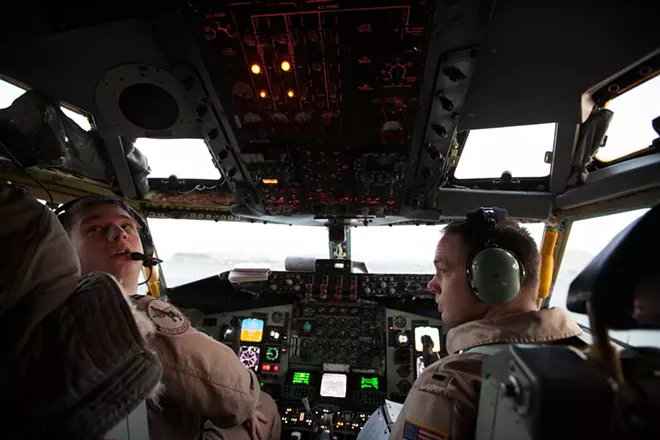 Co-pilot First Lieutenant Jacob Mueller goes over a pre-flight checklist with pilot and Captain Joe D'Agostino, in a KC-135 on the tarmac at Fairchild Air Force Base. They check and re-check the weight distribution on the airplane. They have more passengers and cargo than usual. The flight, designated Reach 5252 — initially with 32 passengers, including four to be dropped off in England — is destined for the Transit Center at Manas, Kyrgyzstan.
This is 25-year-old Mueller's first deployment. He will be leaving his wife Kayla and 2-year-old daughter Emma at home for two months while he works as a mission planner and tanker pilot over Afghanistan. He's already thinking about his family, as Christmas will fall during the middle of his two-month deployment.
As a graduate from the Air Force Academy in 2010, Mueller had decisions to make. He knew he wanted to be a pilot, but what kind? He spoke with tanker pilots and decided that might be a good fit for his personality. He says, "I like being around people. I like the crew mentality and like having conversations." Mueller feels he could get more of that interaction in a tanker, rather than a single seat fighter. He also said tanker pilots are "on-the-road" less often than cargo pilots, another option that Mueller rule out.
The amount of time"on-the-road" is important for Mueller. He and his high school sweetheart, Kayla, were married 10 days after his Air Force Academy graduation, on June 5, 2010.
Speaking about his family, he says, "I miss them and I love them." But he also has other things to worry about right now. He's anxious about his first deployment. He's heard about what to expect, but isn't really sure. But, he does look forward to adding to the one hundred twenty KC-135 flight hours he currently has.