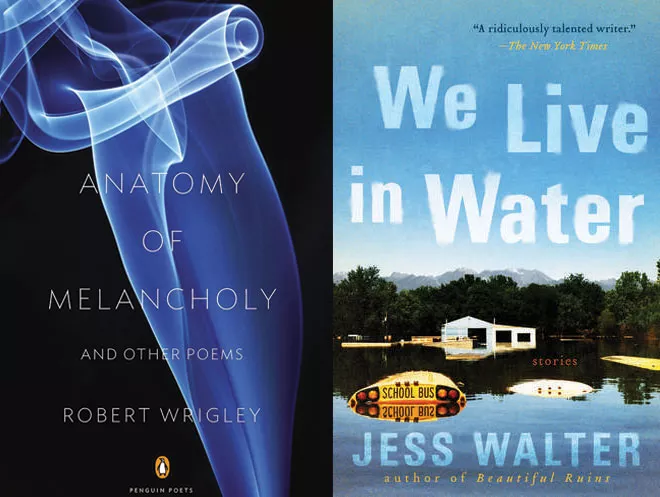 Two well-known local writers are among the six winners of 2014 Pacific Northwest Booksellers awards, announced today: Jess Walter for We Live in Water, and Robert Wrigley for Anatomy of Melancholy and Other Poems.
Walter's Spokane-centric collection of short stories, published last February, came out to a flurry of positive reviews and has since also appeared on the Oregonian's list of Top 10 Northwest Books of 2013 and Esquire's list of Top 5 short story collections of 2013.
Wrigley, who lives in Moscow, published his latest collection of poems last March to immediate praise, and the PNBA award committee included these comments about their selection:
"Vividly evoking the natural world and that most complex of beasts, the human, who stumbles and dances through it, Robert Wrigley's ninth collection of poetry is a quietly illuminating and richly pleasurable read. He deftly joins story and song in these moving, wry, thought-provoking poems."
Both writers were among those we featured last spring in the Get Lit! issue. (It's alphabetical, so scroll to the bottom.)
The other four winners are: Emily Winfield Martin (Dream Animals: A Bedtime Journey), Joe Sacco (The Great War), Langdon Cook (The Mushroom Hunters) and Ruth Ozeki (A Tale for the Time Being).
You can also see the winners in this little rotating gif for booksellers to use on their websites: