After several months of investigation and legal review, the Spokane County Prosecutor's Office recently cleared seven Spokane Police Department officers of criminal wrongdoing in two separate, fatal 2013 officer-involved shootings — killing in one, a murder suspect reaching for a cellphone and in the other, a mentally ill father who had rammed police vehicles.
Chief criminal deputy prosecutor Jack Driscoll released his decision letters late last week regarding the police shootings of 21-year-old Justin Cairns on May 16 and 40-year-old Danny Jones on Aug. 22 of last year. Driscoll found both shootings "justified" with no criminal liability that would trigger charges against officers.
"There was no 'evil intent' shown by the officers," Driscoll writes on both cases. "They were acting in good faith in the performance of their duties, following their training, policies and procedures."
JUSTIN CAIRNS SHOOTING, MAY 16
Cairns, who we profiled in a 2010 story about juvenile rehabilitation, became a murder suspect in the early morning hours of May 16 after investigators say he shot and killed a man during a suspected drug dispute. Officers tracked Cairns to his grandparent's home in Nine Mile Falls at about 1:45 am and confronted him outside the house.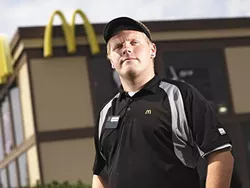 Driscoll's decision letter summarizes officer and witness reports from the scene, indicating two officers found a confused and erratic Cairns out back. They say he put up his hands and asked what was going on.
"I don't know you are the police," he reportedly shouted, pointing at them and then fleeing around to the front of the house.
Investigative records show Cairns encountered three SPD officers out in front of the home. Officers Jake Jensen, Dan Lesser and Adam Valdez drew their weapons and ordered Cairns to the ground. Officers reported Cairns was wearing shorts and a hoodie. He screamed "Shoot me, bitches," and tried to pull something from his waistband.
"Officer Valdez says going through his mind is this is a guy who just shot and killed someone, who looks like they are reaching for a weapon, and is about to shoot Officer Lesser," the summery reports. "Officer Valdez said he fired four to five times at the man. It sounded like two other rifles were going off as well."
Cairns' younger brother told investigators he watched the confrontation from the window. The gunfire woke up Cairns' grandparents who had been sleeping in the house and apparently oblivious to the situation.
Investigators later found a black Motorola cellphone near Cairns' body. They also found a black BB gun in the grass behind the home. Inside the home, they recovered a .380 handgun belonging to the grandfather, the same type used in the drug shooting earlier. A computer in Cairns' room was streaming police traffic, suggesting he had been listening to scanner calls.
Investigative records indicate officers fired 12 shots from AR-15 and M4 tactical rifles. Autopsy reports state Cairns suffered at least six gunshot wounds. His blood tested positive for methamphetamine.
"Officers Lesser, Jensen and Valdez were justified in their use of deadly force," Driscoll concludes. "They were facing a resistive suspect, who disregarded multiple commands to give up, whom they suspected of recently using deadly force during a homicide, constituting a 'threat of serious physical harm.' The suspects actions immediately prior to being shot could be reasonably construed as intending to make the officers believe he was armed."
DANNY JONES, AUG. 22
At about 6 am on Aug. 22, Danny Jones allegedly rammed into a white pickup truck along Division Street, deliberately backing into the vehicle at a red light. The collision sparked a short pursuit leading to the parking lot outside the Salvation Army shelter on Indiana Avenue where Jones had recently taken up living with his wife and children.
As more than a dozen SPD officers closed in on the parking lot, first responders used their patrol vehicles to box in Jones' red Dodge pickup near an entryway to the shelter. The Jones decision letter includes multiple officer and witness reports that Jones started shouting, honking and creating a scene. He called out for his wife Nancy and challenged officers to shoot him.
"Mr. Jones put out his arms outside of the truck and began 'beating the side of the truck like a gorilla.'" the report states. "He was revving his engine and lunging forward."
Jones had recently moved into the shelter, but his family says he had been gone the last couple of nights. His family reported the tight quarters in the shelter often made him claustrophobic. He had also previously told Salvation Army intake staff that he suffered from schizophrenia and bipolar disorder.
"He said he was taking medication and currently seeing doctors for his mental condition. He wanted [the Salvation Army] to be aware of his mental conditions in case something happened so they knew how to handle him."
As his teenage son peeked out from a window, investigative records say Jones put his truck in gear, trying to escape the ring of patrol vehicles, ramming back into one and pulling into another. Officers surrounded the truck with weapons drawn, including an officer with a less-lethal beanbag shotgun.
Lt. Kevin King described the officers' perceived options:
"[The] only reasonable option to stop Mr. Jones from injuring or killing people or officers was his firearm. He knew he could not shoot out the tires or disable the engine. He knew that pepper spray was not an option as that would only take his sight away and not incapacitate him. He could not use his Taser because much of Mr. Jones' body was not visible in the truck and he was a moving target. He felt he was an immediate threat that needed to be stopped."
Officers say Jones started to pull the truck forward again, endangering officers and anyone potentially near the shelter entryway. Lt. King as well as Officers Robert Collins, Scott Lesser and Cory Lyons all fired their weapons.
Investigators say officers fired at least 19 shots, including seven .223 tactical rifle rounds, eight .40-caliber handgun rounds and four .45-caliber shots. Autopsy reports say at least seven rounds struck Jones. At least one shot struck an SPD vehicle parked nearby.
At least one witness disputed Jones had posed any threat. Surveillance footage reportedly captured aspects of the confrontation. That video has not yet been released to the media.
"A motor vehicle can be a deadly weapon," Driscoll concludes, adding. "[Officers] were facing a suspect who disregarded multiple commands to stop his vehicle, get out of his vehicle and get on the ground, who had rammed three different vehicles, including two that were occupied, and whom they had probable cause to believe had committed multiple serious felonies. It was reasonable for officers to conclude Mr. Jones actions constituted a 'threat of serious physical harm' to both officers and civilians."
OTHER SHOOTINGS
Detectives with the Spokane Investigative Regional Response team continue to investigate multiple officer-involved shootings from earlier this year, including the March 26 shooting of Stephen Corkery. Records indicate the last officer-involved shooting prosecutors found unjustified was an off-duty shooting by SPD Officer Jay Olsen in 2006.
As the recent investigations progress, the Spokane City Council has also drafted a letter to the Prosecutor's Office questioning the length of time it takes for prosecutors to review such high-profile shootings.
Councilman Jon Snyder, chairman of the Public Safety Committee, says he put together the letter in response to recent shooting reviews that have taken up to a year to finalize. After meeting with Department of Justice officials in February, he decided to raise the issue publicly.
"Generally these things are taking too long," he says of shooting reviews. "I don't think we want to rush these things, but … the time it takes just leaves a lot of people with unanswered questions."
Snyder says many internal investigations and policy reviews must wait until the criminal process is complete. The lengthy review period also leaves police officers waiting in legal limbo for months on end.
"I don't have concerns about the quality of work at the Prosecutor's Office," he says, "but the timeliness is concerning."
The City Council will review the letter and vote on the issue Monday. County Prosecutor Steven Tucker did not respond to a request for comment.
Cairns Decision Letter by inlanderweb
Danny Jones Decision Letter by inlanderweb
City Council officer-involved shooting letter by inlanderweb