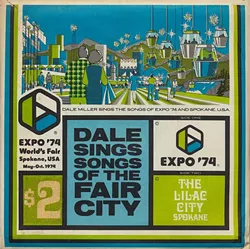 As the 40th anniversary of Expo '74 approaches, we've been poring through over old photos, memorabelia and news coverage from the time. We'll have more in print in the coming weeks, but print just can't capture one amazing part of Expo — the music.
The ambition and importance of Expo is clear when you start looking at the music performers who came to town that summer: Harry Belafonte, Ray Charles, the Carpenters, Chicago, John Denver, Merle Haggard, Diana Ross, Up With People and dozens more. But there were also a few songs written about Expo, each one now like an audio time capsule of Spokane's shining moment.
Here a few that we've been passing around the office. (And, yes, getting stuck in our heads a little.) Would any local bands like to cover these? Because that would be amazing.
1. A promotional jingle.
"Take a ride over the faaalls … Come join the fun, magic and muuuusic!" Start at 0:45 in this old TV segment that includes the vintage commercial.
---
2. A song for teaching people how to pronounce our fair city's name.
"You can't in Santa Fe, they just nervous and run away. But you can, yes you can, in Spokane. ... You can in Spokaaaaane! You can in Spokaaaaane! At the fair in Spokaaaaane!"
Listen to a clip here, and read an interview with Bob Bellows about how it came about from a slogan the city council put on pins. Songwriter Reg Fulton died last October.
---
3. A folksy song about our fresh new environment.
"Spokane will show the world how we're cleaning up the land, your water and fresh air from sea to sea. We're trying to make the land a better for all to live. We'll teach the world about ecology." The song, from Dale Miller's record with two Expo songs, is featured in this new video made by Business Talks producer Barrett Rossie. Here's also an interview with Miller.