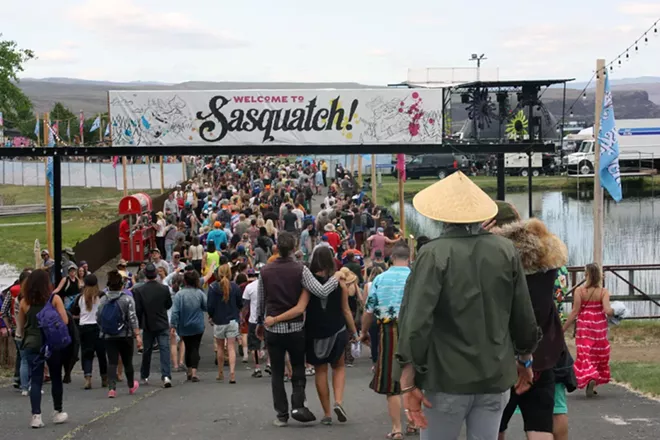 It went back and forth.
"Bow wow wow yippe yo yippie ye!"
Finally making it through the draped-in-pink gate a little later than first planned, it was such a relief to see De La Soul on the main Sasquatch! stage, just pumping the crowd up – exciting the furries, the bros with Macklemore haircuts and the hulahoopers alike, until nearly everyone in the mosh pit had their hands in the air.
The classic New York-based hip-hop act was the perfect group to start my three-day music festival experience. All they wanted to do was throw a party. I raised my hands too and let it all go.
It would be easy to find the process of getting into Sasquatch! and procuring a camping space a huge pain in the ass, but that would be a mistake. It's all part of the experience. The putting up of a six-person tent in ghastly winds? That's part of the experience. Same with discovering you may not have brought as much beer as you thought you did. As I hammered some stakes hard into the ground, I heard Kithkin far off in the distance — oh well that I wanted to see them, that's what Volume is for.
The day is just beginning here, weed is already wafting on the breeze, people are letting loose. Onward to Eugene Mirman followed by Princess on the comedy stage and tonight, Outkast!
This weekend will be unforgettable.
Follow Laura's weekend-long Sasquatch! coverage @lowesays.