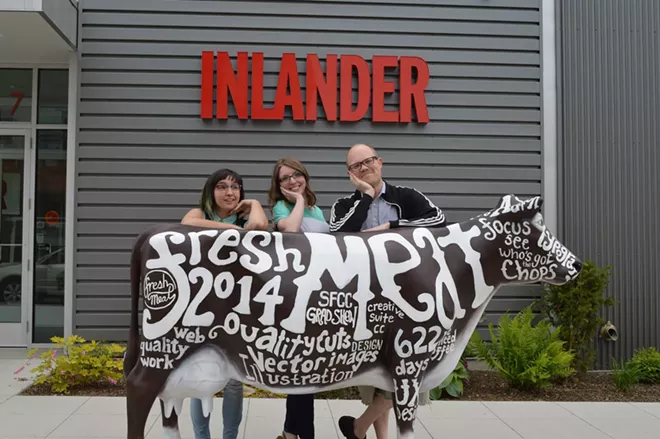 The theme of the SFCC graphic design student portfolio show is all about fresh meat.
"We know it's hard to break into the design industry, and each year there are new graduates from our program and other schools flooding the area looking for jobs," says Liorah Wichser, student art director for the event. "The professionals may see us as 'fresh meat' to the industry, so we decided to go with that for our theme. We don't take ourselves too seriously, and as a result, we're having more fun."
In a twisted way, the best choice for the mascot was Bovine the cow.
"We're all a bit of Bovine on the inside," says Mickenzie Burns, student event manager. "Starting as a fresh slate, molded and painted over and over again until, with one last coat of fresh paint, we're pushed out into the world for all to see." Covered in typography, she swung by the Inlander for a photo op, only to get a flat moments later. But a quick stop at Golden Rule brake and she was good to go.
Check out the Grade A stuff this Friday, June 6, starting at 5 pm at Hamilton Studios, 1427 West Dean Avenue.