Editor's Note: Keep checking back for Spokane fashion watch blogs all summer.
Socks, yes socks, are currently dominating the fashion world. From Rob Kardashian's sock line, Arthur George, to the eclectic LittleMissMatched stores, these two-feet wonders are helping athletes, business professionals and everyday fashion connoisseurs create a personal statement. However, a Pacific Northwest company, Strideline Socks, is helping bring the national trend right here to Spokane.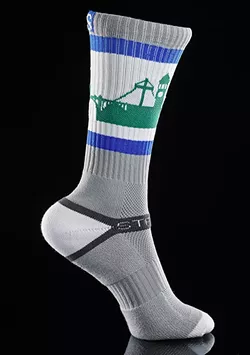 With Hoopfest around the corner, we thought we should focus on the fashion sock trend. Each year, Hoopfest teams pre-game the tournament by trying to outwit each other with the most creative names and costumes — this year even with socks.
An innovative Seattle company, Strideline Socks, has made an appearance in the Spokane area. The noteworthy Strideline City Socks line features mid-calf socks colorfully embroidered with major city skylines. Boston, Los Angeles, Seattle and even Spokane are some of the cities featured in this line.
These socks made their way out here because of Spokane native Sam Talkington. He connected with the Strideline Socks co-founders Jake Director and Riley Goodman while attending the University of Washington.
"After I saw the sock line I knew it would be perfect for Spokane," Talkington says. "I had to do a lot of fighting, pushing and advocating to get these socks created. Spokane has such a sports culture and I knew the people here would be receptive to the brand. It has been a huge success so far."
Strideline-Spokane is doing a #Hoopfest25 giveaway and your team could win four pairs of socks. To enter this contest, "like" the Strideline-Spokane Facebook page, share the #Hoopfest25 giveaway post and leave a comment with the name of your team. The contest ends June 23.
Strideline-Spokane socks can be found at Kimmel, Sports Town and will soon be carried at the EWU and WSU downtown bookstores. They can also be found at major Spokane events including Bloomsday and Hoopfest — they'll have a booth in River Park Square. The cost per pair of socks is $13.95.