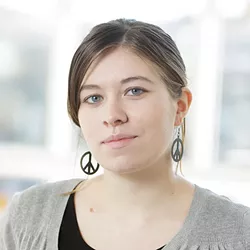 When does a corporation become human? Does it happen at conception, when the articles of incorporation are filed? Is it when the final member joins the Board of Directors or when they make the final change to the bylaws? The day they go public? Or does it happen when five out of nine Supreme Court justices decide that an obscure piece of the Constitution could be interpreted to mean that corporations are, and have always been, basically human in their function? Since the Citizens United decision in 2010, this absurd idea has become legal reality with effects that empowered the U.S. oligarchy to run rampant with no meaningful consequences.
As of this morning, the situation is even more strange. The Supreme Court defended the religious freedom of employers to deny birth control as part of their health benefits offered. As Justice Ruth Bader Ginsberg wrote in her dissent, "The exercise of religion is characteristic of natural persons, not artificial legal entities." She is consistent and correct in noting that a corporation is an artificial legal entity. It does not breathe, eat, reproduce or get sick. One would hope that this point wouldn't require clarification, but this is a world where a CEO's imaginary friend's feelings just became more important than my health, your health, and the health of your daughters, wives, sisters and friends.
All laws are a fiction to some extent. They are written by people in an attempt to give structure to the unpredictability and danger of life, but often backfire and eventually, as is true in this case, become so detached from real reality that they're rendered meaningless. Sure, the federal government will likely adjust to provide the contraceptive coverage that's been exempted from these few companies, but the point here is less about the specific instance of absurdity and more about the size of the pile of absurdity it's landed on.
The decision also highlights one of the main issues with large scale indirect governance. Power is shared equally within the power structure regardless of expertise, background or understanding. Predictably, the majority who supported this decision are all men. Once again, men make decisions about women's bodies and health from the comfortable distance of legal abstraction in the same way that the overwhelmingly wealthy seem to find it easy to cut so-called entitlements for the working poor while also destroying opportunities to leave those programs.
In such an unbalanced system, where millions of people can be affected by the bad decisions of a few, being accurate doesn't even appear to matter. Justice Samuel Alito, who authored today's decision, claimed that it would not "provide a shield for employers who might cloak illegal discrimination as a religious practice." When women are the only group directly targeted by a law, it is a discriminatory law on the basis of sex. This type of discrimination is illegal. Imagining that an individual's religious practice should have any bearing on any other person's life is bizarre and disturbing. Despite the dissonance, that's just the way things work around here, unless we decide to stop giving our power away to the most delusional among us. ♦
Taylor Weech, who hosts the weekly public affairs program Praxis on KYRS-FM, is a Spokane writer and activist. She's advocated, among other things, for environmental sustainability and all-ages access to the arts. She shares writing, photography and her podcast at truthscout.net.