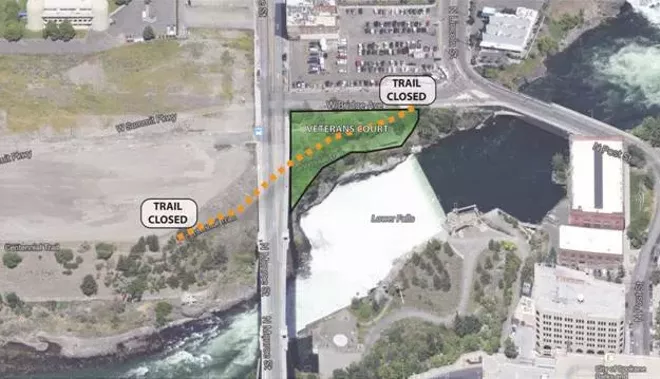 Your typical walk or ride on the newest section of the Centennial Trail just west of the downtown core may need to be slightly altered for the remainder of the summer months.
Development of what's called the Veterans Court area overlooking the Lower Spokane Falls between the Monroe and Post street bridges requires a section of the trail to be closed from the corner of Post and Lincoln (where the trail comes up to connect with the Post Street Bridge) to just west of the Monroe Street Bridge, beginning today, July 16, until approximately Friday, Sept. 5. This part of the trail is
closed to the public Monday through Friday, from the hours of 7 am to 3:30 pm
. It will reopen for evening and weekend use.
Since this mile-long section of the Centennial Trail was completed last fall, it's been incredibly popular. From the
Inlander's
offices just off the pathway, we see a steady stream of walkers, joggers and cyclists pass by daily, heading to and from downtown.
But because of road construction starting any day on Summit Parkway — which offers the nearest sidewalk access paralleling this part of the trail — the weekday trail detour directs users up to Broadway via Cedar and then back down to Monroe and Bridge. Summit's closure is expected to run until Aug. 5.
Garrett Jones, a landscape architect with the city parks department, tells us improvements to the Veterans Court area include installing lighting, a drip irrigation system, native plants, landscaping and pedestrian pathways. Paired with the recent completion of the new plaza and Huntington Park near City Hall, Jones said the Veterans Court improvements were part of "a domino effect" to improve the area around the falls.
A picnic shelter currently located in the small park space is to remain. The city plans to lay sod to create a grassy area for park users to sit and enjoy the view of the Lower Falls and the new Huntington Park across the water. Also being added is a new stairway from Bridge Avenue near the Boy Scouts statue to provide access to the trail and the park space, as well as a paved pathway leading to an existing overlook under the bridge.