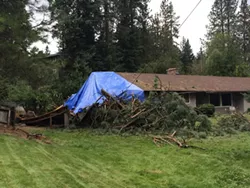 Wednesday is your last day to get rid of green debris from last week's storm for free.
The City of Spokane is waiving the fees for small branches and other yard waste at the Waste to Energy Facility (2900 S. Geiger Blvd.) and North County Transfer Station (22123 Elk-Chattaroy Road). The cost is normally $5 for up to 220 pounds of material. The temporary fee break does not include "logs, roofing, vinyl fencing or similar materials."
Over the weekend, 600 people brought 150 tons of materials for disposal, according to the city.
Meanwhile, the city is also offering a new grant program for neighborhoods looking to plant more trees, which could be a way to eventually replace those lost in the storm. More information on how to apply here.
The storm that hit just after 4 pm last week downed trees across the northern part of the city and county and knocked out power to thousands of homes and businesses. Clean up and relocation continues.