Welcome back to Weed Wednesday, your weekly dose of pot news. Wondering what this is about? Click. Looking for our previous marijuana coverage? Click. Got a question or tip? Email me at heidig@inlander.com.
Check this out: We have a new map of all the open recreational pot stores in Spokane, which we'll be updating as more are licensed and ready to sell. Our map is here, and as always, Weedmaps has you covered for customer reviews and medical locations. This weekend, we'll add Sativa Sisters (10525 E. Trent), which is preparing to open Friday at 11 am. They sent us a press release announcing the event and saying "anyone interested in the revolution" is welcome to attend. So, consider that your invite. Here are a couple looks at the shop from Sativa Sisters' Facebook.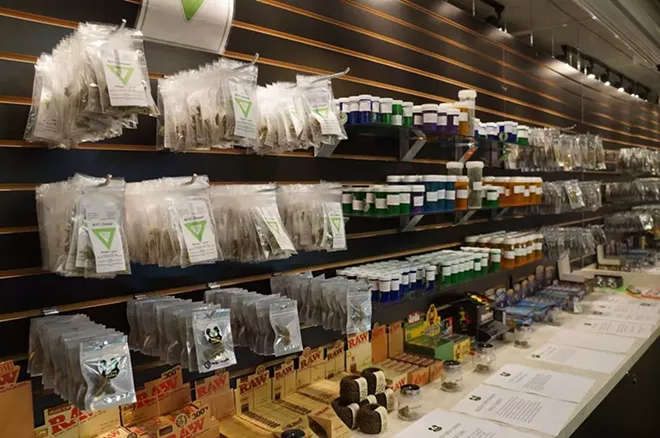 Let's also take a moment to appreciate this new art Satori shared over the weekend.
Spokane also now has a cannabis testing lab, KXLY reports.
The Spokesman has a story today about an Ephrata pot store owner who decided to name his business High Times Station. It turns out that major pot magazine, High Times, doesn't take the lightly. The store has since changed its name, but that's not stopping High Times' parent company from pursuing a trademark infringement case.
The Washington State Liquor Control Board has a new set of FAQs about how marijuana businesses can advertise, warning them to use a separate business to sell hats or t-shirts and to be careful with things like on-vehicle advertising. Read the whole thing here.
The state Utilities and Transportation Commission issued a notice Thursday telling charter and excursion vehicle operators they're not to allow pot consumption in their vehicles. That means no weed buses, like the one operating in Seattle. (Similar services have been popular in Colorado.)
The nonprofit Brookings Institute has a new report out praising Washington's legalization process. While Colorado won congratulations (and most of the international media love) for getting its system off the ground first, "there is a case to be made that Washington is undertaking the more radical and far-reaching reform," writes Brookings fellow Philip Wallach in the report. Specifically, Wallach writes about the state's efforts to gather detailed data as legalization unfolds in order to better understand what works and what doesn't.
Also in research news, a study out this month shows couples who smoke (or vape, eat, whatever) pot are less likely to engage in domestic violence. Another shows that medical marijuana legalization may help cut down on opioid overdose deaths.
Finally, a rapper did the ice bucket challenge with weed, and enjoy this video of comedian Sarah Silverman probably, definitely high and showing off her vape pen at the Emmys.