The beginning of September brings some important changes to be aware of at some Spokane parks. While the summer weather seems to be lingering, seasonal updates are already in place, as well as other improvements and projects.
Enjoy a fresher breeze while riding Riverfront Park's SkyRide Over the Falls thanks to new ventilation improvements in the gondola's 15 cabins. The ride remains open during the project, which wraps up this Thursday. The scenic tour of the Falls operates Tues-Sun, from 11 am-5 pm. Also important to note — the IMAX Theatre has closed for the season as of yesterday.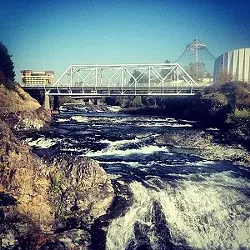 As part of the Friends of Manito's onoing effort to improve water quality in Mirror Pond, one of the park's oldest and most popular features, park staff last week started drawing down the pond's water level. The two-month project requires the pond to be at a fraction of its normal level to allow for shoreline improvements to prevent erosion and the installation of a new auto-fill system to conserve water and keep the pond at a desired level. Contributors to the project, expected to wrap up around Oct. 31, include the Friends of Manito, the City's Parks Department and the Washington State Department of Ecology.
With the exception of Riverfront Park, Manito Park, the Dwight Merkel Sports Complex and the SE Sports Complex, park restrooms close today for the season. Annual park restroom season resumes on Memorial Day and runs only through the summer due to Parks Department budget limitations. However, popular spots such as Mission, Comstock, Franklin and Audubon parks will have portable toilets for use through the end of October.