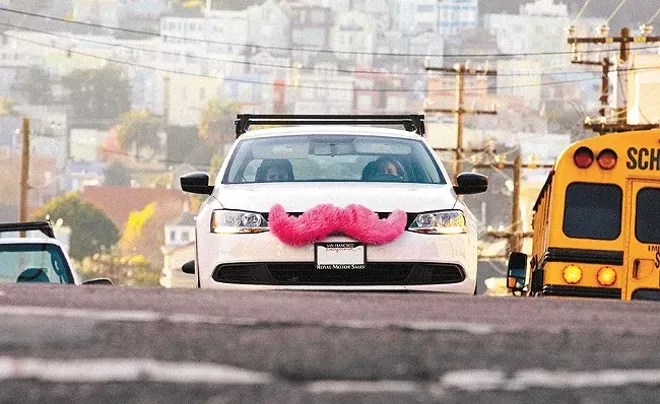 This one's for you, disciples of the so-called "sharing economy." The Spokane City Council looks set to clear the way tonight for ride-share services Uber and Lyft, while slimming regulations for taxis.
The service Uber and Lyft provides isn't quite pure friend-to-friend sharing (you're paying a stranger to drive you somewhere), but it's also not quite the same as operating a taxi company (drivers can work however much or little as they want; they're using their own vehicles; there are no running meters). That's made crafting regulations for them an issue across the country.
Spokane's proposed fix comes in the form of two nine-month agreements with Uber and Lyft allowing them to operate here until the city figures out how it will permanently regulate the companies. The agreements require the companies to pay the city 10 cents on every ride its drivers make. They also include mandatory safety precautions like vehicle inspections, driver training and zero-tolerance drug and alcohol policies — all of which exist in Uber and Lyft's current driver policies.
Meanwhile, changes to taxi rules are meant to quiet some of the taxi backlash over ride-sharing by making it easier for taxi companies to get inspections and hire new drivers. Previously, city code specified a few mechanics who could inspect taxis, which taxi company owners claimed allowed those mechanics to inflate prices. Now, they'll be able to use any certified mechanic. The change will also add a free temporary license taxi drivers can get for their first 60 days of driving. Company owners have complained that if a new driver doesn't last, they take a serious financial hit. (In total, state and city licenses and inspections run $2,000 per cab, one taxi company owner told the Inlander, and Uber and Lyft don't have to pay some of those fees.) The 60-day license is meant to help companies make sure drivers are a good fit before they pay the city's licensing fees, which Councilman Mike Fagan says can add up to about $500.
Uber and Lyft have been operating in Spokane since this spring and room-sharing has been here a while too. This effort to "level the playing field," as politicians like to say, has been led by Fagan and Council President Ben Stuckart. The full council will take public testimony and vote on all three measures tonight at 6 pm in council chambers at 808 W. Spokane Falls Blvd.