Incumbent Gov. C.L. "Butch" Otter led a field of strong Republican showings throughout statewide Idaho races as preliminary election results continued to pour in late Tuesday night. Democrat Jana Jones has made a threatening run for Superintendent of Public Instruction, but was falling behind slightly as about half of all precincts had filed.
IDAHO STATE
Otter carried 55 percent of the early governor vote — a huge lead over the only real challenger, Democrat A.J. Balukoff. According to the Idaho Secretary of State's Office, more than 1,100 voters cast their ballot in the governor's race for "Pro-Life."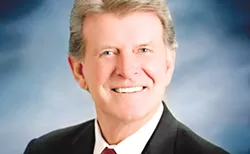 U.S. Sen. Jim Risch will return to Washington, D.C., after taking 66 percent of the early returns, winning more than twice the votes of Democrat Nels Mitchell.
U.S. Rep. Raul Labrador looked likely to hold onto his seat with almost 65 percent of the vote, almost twice that of Democratic challenger Shirley Ringo.
Incumbent Brad Little overwhelmingly won the Lieutenant Governor position with 63 percent of the vote. Republican candidate Lawrence Denney also captured the Secretary of State race with 56 percent.
As mentioned, Jana Jones has maintained a close race with Republican Sherri Ybarra, splitting the vote 49 to 50 percent, respectively.
Kootenai County had yet to post any local results by 10:30 pm. Those results may be available here later this evening.