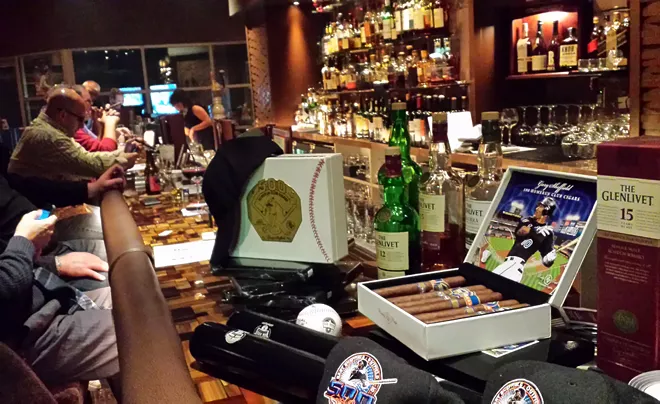 That there was a line of people anxiously waiting for the doors to open for the Gary Sheffield appearance wasn't a surprise. After all, the guy is a World Series champ, nine-time all-star,
bordeline Hall of Famer
and, at the very least, a familiar face to anyone who's watched baseball the past two decades. His bat-waving stance was intimidating to pitchers and instantly recognizable to fans, and his outspoken way with the media made Sheffield a regular in the sports-section headlines.
No, the surprise was that the people in line at
Northern Quest Resort & Casino
weren't there for some baseball memorabilia show or ex-jock meet-and-greet. They were there to sample a cigar designed to commemorate Sheffield's 500th home run in the big leagues, a stogie the Florida native designed alongside cigar maestro Rocky Patel.
Retired athletes have a long history of struggling to fill the time they used to spend in the spotlight of massive stadiums, and the country is littered with restaurants and car dealerships stamped with names like Don Shula, Mike Ditka or Karl Malone.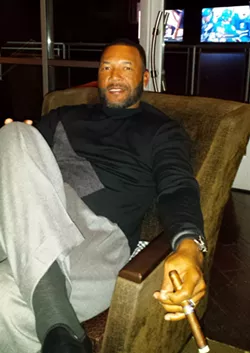 Athlete-branded cigars are a bit out of the norm, but the folks at Northern Quest's Legends of Fire cigar lounge have tapped into that celebrity-smoker circuit with a series of events this fall. First, ex-NBA star John Salley came to town for the resort's Little Smoke festival in September. Then fellow hoops vet John Starks came to Legends of Fire and regaled fans with tales of his years battling Michael Jordan.
Sheffield was the first Major League baseball player to make the trip to Spokane for a cigar show, and arguably the most high-profile athlete yet. Blake Crossley, Legends of Fire manager, said the recent monthly parties are drawing crowds of cigar lovers more than athlete worshippers. Patel's cigars are highly regarded, and the chance to enjoy a new smoking option proved to have strong appeal — Crossley said the Sheffield event sold out of its 75 spots in just a couple days.
A few minutes before the crowd is allowed in, Sheffield saunters in, sparks one of his cigars and orders a cocktail. He's a long-time smoker, and says cigars — which he pronounces "cee-gars" — are perfect for relaxing in retirement. Although, he notes, he smoked plenty during his playing days, too.
"I've been smoking about 18 years," Sheffield says. "Most athletes smoke cigars. Whether you have a tough day or a great game, you just pull out a cigar and relax and put the game behind you until the next day. It's one of those things that I didn't do in public a lot when I played, but when I retired I said, 'It's time for me to enjoy my life, do the things I enjoy doing.'"
When the Legends of Fire doors open, Crossley's prediction that the air would fill fast with smoke from the Sheffield cigars proves correct. The 75 attendees grab their glasses of Glenlivet scotch — a sponsor of the event — and immediately find tables and light up. No one much bothers with Sheffield, and he enjoys how mellow the vibe is as he's left to chat with Crossley and a Patel rep while he enjoys his smoke.
Later, he'll talk for a bit about how he came up with the blend of flavors making up the Gary Sheffield HR 500 cigar — "I smoked hundreds of cigars, trying a lot of flavors" — and he'll talk a bit about his career, sign some baseballs, take some pictures. But for now, Sheffield is happy to just kick it.
"It's the total opposite of baseball [events]. You can go to an event and nobody really knows who you are. Maybe they're more into football or basketball," Sheffield says.
"That's what I like about this, it's just the speed I'm on right now. Just relax, chill, mingle with people and just enjoy a cigar."
Y
ou can read a review of the cigar from a local blogger here. The next Legends of Fire party is the Black & White Event on Monday, Dec. 8.