If you're having a case of the Mondays this morning because of that
should-have-won-it Seahawks loss
, you're not alone. But you know who's not in the group? Dan Nailen, who's one half of the Monday Morning Placekicker Team. He's bouncing around and wearing a goddamn Chiefs hat around the office.
We both documented the game as we watched, me from the perspective of a lifelong 12, and fan of the morally superior Seattle Seahawks, and Dan as a Chiefs fan, because he lived there once or knew someone who lived there or something. We noted our thoughts at each quarter break. Here's how it went:
PREGAME

DAN, insufferable Chiefs fan:
I'm feeling pretty good about KC's chances. Seattle hasn't been the force it was last year, and it's cold at game time. Midwest cold is a lot different than Seattle cold, so that could be an advantage. Alex Smith won't lose the game with quarterback mistakes, and if the Chiefs can run, they'll be able to keep Wilson and Lynch off the field.
MIKE, 12th man:

These 10 am starts really make it hard to commit to anything of substance for the morning and I'm fine with that because the rest of my household is watching
Frozen
for the third time this weekend, so I can focus on the first in a series of tough games for the Seahawks. Oh, and it's 19 degrees in Kansas City, which should be good for Beast Mode, Rusty Wilson and the rest of the ground game.
END OF 1st Quarter: KC 7, SEA 0
DAN
Feeling pretty good with the KC long drive for a TD. 15 plays, and nine minutes off the clock — that's how it has to go. Seattle is starting to run the ball, though. And that was a crazy-fast first quarter — 25 minutes in real time for the first 15 minutes of the game. This game could be over in two hours if it weren't for commercials.
MIKE

This game is going quick. Out in my living room, Elsa hasn't even turned the town into ice yet and we're already in the second quarter. This is some old-school, ground-and-pound football right here. Hawks have the ball in Chiefs territory to start the second and Marshawn is getting some of that action, boss.
HALFTIME. KC 17, SEA 13
DAN
I've gotta be pretty happy to be leading the Super Bowl champs at the half. The turnover in the two-minute drill that gave the Seahawks the ball and a chance to take the lead at the half could have been a disaster. Thankfully, the Chiefs held them to a field goal, even though Russell is starting to run all over them.
MIKE

A Baldwin touchdown catch, some
sexy kicking from Stevie Hauschka
, and a key fumble have the Seahawks down 17-13 at the half. But damn, if they could have punched that red zone series in for a touchdown, we'd be sitting pretty. Instead, I'm at the grocery store looking for children's nose drops and waiting for the lady in front of me to find her coupon for green beans as halftime ticks away.
END OF 3rd QUARTER: KC 17, SEA 20
DAN
Turnovers. They're a killer against any team, but especially good teams. It was bad enough the Chiefs had to settle for a FG after driving to the two-yard line. But Jamaal Charles' uncharacteristic fumble at mid-field led to a Seahawks TD — by former Chief Tony Moeaki, no less. Grrr.
MIKE

Jamaal Charles is allegedly a good football player and all that, but thanks for the fumble. The Hawks took four plays to score, which was key because things were looking a little sour after Ricardo Lockette got tossed from the game for punching a dude in the face. Now, the Seahawks defense needs to clamp down. In other news, it's nap time and I've regained the household's main television.
FINAL: KC 24, SEA 20

DAN
I wasn't feeling good when Wilson got the ball back down 4 with less than 3 minutes to play after the Chiefs were forced to punt. Not a good spot for Chiefs fans, but the D did its job. It was basically a Jamaal Charles vs. Marshawn Lynch game. I'll take our guy — all due respect to Beast Mode.
MIKE

Aww shit. Uggggggh. Man, that one hurt. We had two legitimate chances to take the lead on fourth downs and couldn't make it. And ref, that was a pass interference you missed when Baldwin got bumped en route to the corner of the end zone. The defense held up, but the Seahawks couldn't make it happen. It's only 1 in the afternoon and I have to live with this loss for the rest of the day. Looks like we're watching
Frozen
again, so there's that.
NCAA's Coming Back!

College basketball is back in full effect with all our regional teams' seasons underway, but this morning we got additionally awesome news in that the NCAA men's tournament (aka the World's Last Great Sporting Event) is coming back to Spokane in March of 2016. It's the 10th time the Spokane Arena has hosted the event since 2001. Ticket info should be coming soon.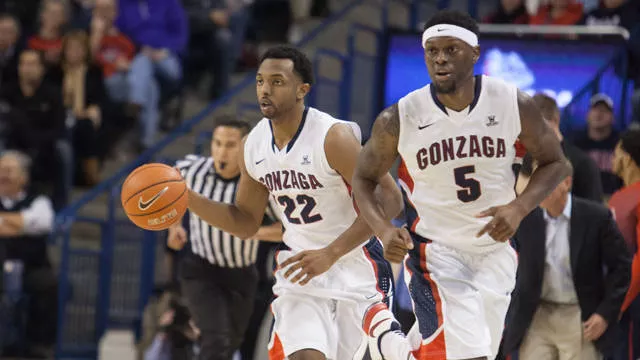 Zags Back in Action Tonight

There was a common refrain this weekend: "Did you see the Zags?"
You didn't need to discuss it much further than the fact that
Gonzaga dismantled Sacramento State 104-58
. The Zags look damn tough, and newcomers Kyle Wiltjer, Byron Wesley and Domantas Sabonis are going to be key for this squad.
Tonight, Gonzaga is back in action at the McCarthey Center and will have their hands full with SMU. Coached by former NBA Champion Larry Brown, the Mustangs of SMU are ranked #22 and were similarly successful in their opener on Friday, a 93-54 win over Lamar. Tonight's contest tips at 8 pm on ESPN2.