Inlander contributors and Gonzaga seniors Franny Wright and Jenna Mulligan will be taking you inside the Kennel Club, the Zag's renowned student section in this occasional series to give you some insight as to what makes these kids amongst the rowdiest in all of college hoops.


Rather than cheer as the typical bright red sea of jumping fans, the student section at last night's insane
94-42 win over Saint Joseph's
wanted to blend in. Many Zags tossed some camouflage over their Kennel Club shirts to "hunt the Hawks," while others chose outfits that would stick out a little more for those ESPN cameras. It wasn't just these getups that distracted St. Joe's to the point that they only scored 10 points in the first half, but it might have helped.
CAIT ROSELLINI, SENIOR
"The G.I. Fairy"
Tonight we are hunting, so we're coming out in camo to support the Zags in taking down the Hawks!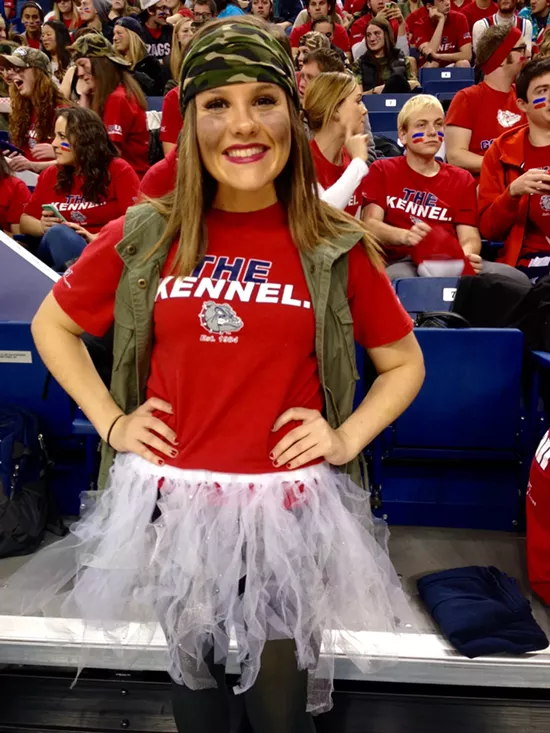 RYAN GROSCOST, FRESHMEN

"A Bunny of a Different Color"
I saw this pink bunny costume on Amazon, and just knew I needed it for games.
BEN ZIMNY, JUNIOR

"The Big Bush"
I figured I might as well go all out for camo night and be a bush.

BO VOLWILER, FRESHMEN

"The Bo-Nanner"
Well, I just had this banana suit lying around, and I combined it with my friend here's shirt!

MARIE MARSHALL, SENIOR

"The Job Hunter"
Hunting the hawks is a great excuse to pull out all of my camo, and this sign probably can't hurt either.
The Zags finish up their four-game opening home stand on Saturday night against
St. Thomas Aquinas
, a Division II school from New York. They head to Madison Square Garden after that for a Thanksgiving Eve matchup against Georgia in the NIT Season Tip-Off. That game is at 6:30 pm on ESPN2.