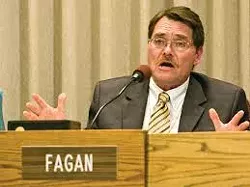 With markedly different political philosophies, City Councilmen Ben Stuckart and Mike Fagan usually debate each other.
But today, you'll get the chance to see them join forces to debate high school students as part of a fundraiser for Rogers High School's Speech and Debate Club.
Back in 2009, the
Inlander
reported on debate in the Inland Northwest, and looked at how it often favors schools from wealthy neighborhoods, where parents and programs can easily raise funds to pay for tournament fees and travel costs. Rogers, with the highest percent of low-income students in Spokane, has often struggled with that.
That's why this year, instead of just selling T-shirts or hats, Rogers Debate Coach Cari Heath is holding a politician vs. high schooler rumble, sponsored by community members like attorney Breean Beggs and the Eymann Allison Hunter Jones law firm.
It kicks off today at 5:30 pm, in a literal boxing ring at The Howard Street Gym, 165 S Howard St. Admission is free.
This year, the Rogers debate team has four
students — actually up from last year's three. Instead of traditional debate events, they concentrate on Student Congress — a mock political simulation — and several individual events like impromptu (a speech on any topic without time to prepare) "extemp" (a speech with limited time to prepare) and expository (a prepared speech accompanied by visual aids.)
Council President Ben Stuckart was once a debater for Lewis and Clark in high school. At Gonzaga, he and his partner took third in nationals in Cross Examination debate, reading off evidence with machine gun speed to prove that a certain indigenous tribe should have the right to hunt whales sustainably.
Mike Fagan, a longtime supporter of Rogers high school — his kids went there — agreed to join him. But this time Stuckart and Fagan won't be lugging in crates of evidence on a dolly. In fact, they won't likely even know their topics ahead of time. They'll be facing off in short, quick rounds, arguing light-hearted topics that likely won't have anything to do with immigration ordinances, street kids, or oil trains.
After Rogers juniors Rylee Cesal and Hana Knowlton give impromptu speeches from audience suggestions, Stuckart will face high school senior Zack Bonser and Fagan will battle Rogers senior James Pearson. Bert Caldwell, of the
Spokesman-Review
, will referee.