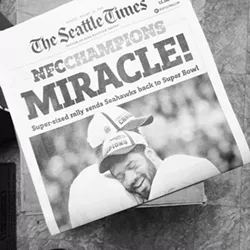 Hopefully you aren't working today because it's
Martin Luther King, Jr. Day
. But if you are at the office, it's likely that the first hour (or two) of the work day featured very little real work and a whole hell of a lot of people standing around trying to collectively process what happened in Seattle yesterday afternoon.
Even non-fans know what I'm talking about, because of TV or Twitter or the fact that the neighbor you've never met came to your door screaming that the Seahawks were going to the Super Bowl.
Seattle took down the Green Bay Packers in overtime by a score of 28-22. The score of was 19-7 Green Bay with just five minutes left in the game, making this one of the most ridiculous comebacks in NFL history. I know I've never seen anything like it.
But let's try to piece it all back together and remember all the outrageous plays that had to happen for the Seahawks to pull this off on a day when the typically reliable hunk of Jesus-loving muscle Russell Wilson threw four interceptions.
I'm a
believer in the Seahawks since birth
, but there was a part of me beginning to navigate through the stages of grief about halfway through the third quarter. The Hawks offense couldn't do anything and Wilson looked like he'd forgotten where he was half the time. It was all very sad. Then there was some light and the offense creeped down the field...only to stall in the red zone. Hell, we'll settle for a field goal, I thought. The following happened next:
So many unlikely things have to happen here and without this play, I think the game is pretty much over. First Jon Ryan, a punter whose also the holder (and a Canadian), has to make it to the corner and then has to throw a ball to a guy who's never made a catch in the NFL. And yes, all those things happened.
Then, the Seahawks had to play their best defense against a Packers team that was trying to backpedal their way into the Super Bowl with an ultra-conservative string of play calls. The Hawks got the ball back and Wilson threw a gem to Marshawn Lynch, who would take it inside the 10 yard line, setting up an easy run for Wilson.
Which brings us to the onside kick — one of the most exciting, but typically deflating plays in football — which yesterday changed the course of Seahawks history. You have to feel for the Packers player who let the ball bounce off his head and into the arms of Seahawks reserve receiver Chris Matthews (I'd never heard of him, either), but whatever, we'll take it.
Marshawn Lynch was playing like a man out for blood the entire second half. Maybe he was pissed that the NFL wouldn't let him wear his gold (
as in made with actual gold
) cleats, or maybe the guy just exists to punish would-be tacklers. He took the ball and did this, which, of course, included the obligatory nut-grab.
OK, so now the Seahawks have a 20-19 lead, which would be fine if they weren't facing Aaron Rodgers, a quarterback who can use the remaining minute and change on the clock to easily get his team within field goal range (which he did on the drive that followed). So, they needed a 2-point conversion, which they accomplished with a game of Flyer's Up. Here's how it sounded from inside the packed Century Link.
After Green Bay's far-too-easy drive for a field goal, the game headed to overtime. And any longtime fan who saw the Seahawks and Packers standing at mid field for an overtime coin flip was immediately haunted by this unfortunate
Matt Hasselbeck moment from 2003.
But thankfully the Seahawks kept their mouths shut when the coin flipped their way — which was also one of the biggest strokes of luck for Seattle on a day when they were already absurdly lucky.
So what the hell, first and ten just across midfield? Let's chuck this thing to Jermaine Kearse, the guy who hadn't caught a ball all day, and actually seen all the balls thrown his way get intercepted. Touchdown, game over. Seahawks are going back to the Super Bowl and I'm lying in front of my television set trying to figure out what the hell just happened.
There were other sporty things that happened this weekend, too, but no one will ever remember them, so we'll just leave you with this image of Seahawks defensive lineman Michael Bennet riding a police officer's bicycle.