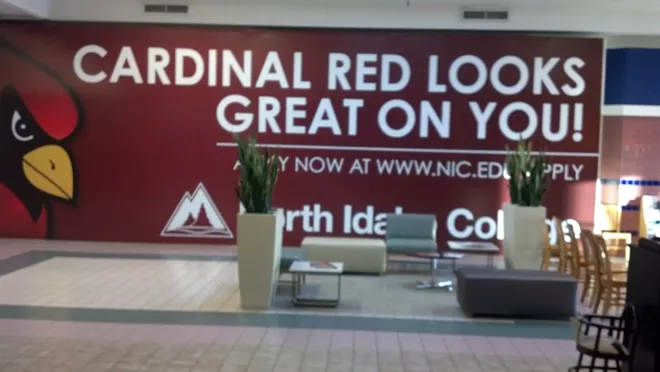 Our investigation this week into why so
few Idaho kids go to college
began with a survey of twenty-somethings at the Silver Lake Mall in Coeur d'Alene, where an ad for North Idaho College pleads with shoppers to get a college education.
But many, citing a slew of different reasons, said they never went to college after high school. Some, like Jon Byrum, don't have college plans in their future. Jon's working for a pressure-washing company, but says he plans to start raising chickens for a meat business.
His wife Paris has a few specific college certificates, but nothing beyond that. It's not that they're against higher education. But they feel, in a lot of cases, like it's a waste of time and money. They, like a lot of people in Idaho, prefer practical knowledge.
And they don't plan on directing their kids toward college either. "Personally, we're going to be homeschooling our children, to raise them to work when they're able," said Paris. "If they're able to work at 12, 13, 14 years old — and they can work with somebody who has a skill, without college to get knowledge about that skill."
But a few people I interviewed, who had skipped out on college after high school regret missing it. Like Damien Johnson and Geoffrey Hess, in the aisle of of the Payless ShoeSource. Hess was kicked out of his house and missed filling out his college financial aid in the process. Johnson decided to take a year off before college — but that year turned into five.
"As soon as I turned 21, I just went downhill. Partied all the time, didn't really want to do anything," Johnson said. "Now I'm 23 years old and want to do something with my life."
But this fall, both he and Hess say they plan to enroll at North Idaho College. Better late than never.
Johnson wants to take classes to become a diesel pickup mechanic. "My brother and I are planning on building a shop out of our house. I'm going to start my own business," he says. "That's going to be my practice and my art, pretty much."
For Hess, he plans to eventually transfer from NIC to the University of Idaho, study architecture, and build green, affordable homes for low-income families. He knows he needs a degree to do so.
"In today's world and today's economy, with everything that's going on, you aren't going to make it anywhere unless you have further education," Hess says. "I don't want to keep working odd jobs forever."