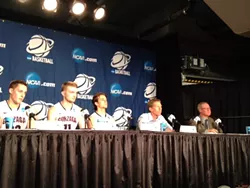 The volume inside of Key Arena just a few minutes into Gonzaga's round-of-32 game against Iowa was the sort of thing that gives you goosebumps, even if you're sitting in the press area trying to be as objective as possible.
Kyle Wiltjer and Kevin Pangos were taking turns hitting big threes and the largely Zag crowd in Seattle was working out six years of frustrating second-round exits from the NCAA tournament. There was plenty of reason to make a ruckus in the Emerald City this weekend.
Things stayed mostly loud throughout the game, which ended in an 87-68 blowout of a team that a lot of prognosticators (
yours truly included
) thought would give Gonzaga a serious run for their money. Instead, the Zags pulled out their best offensive game of the season, posting the sort of offensive stats that I hesitate to even post here because there might be kids reading this and the
figures border on basketball pornography
. But just a taste: 61.5 percent from the field, 10 of 16 from three-point range. That is insane.
Kyle Wiltjer, Domantas Sabonis and Kevin Pangos took to the press conference podium with coach Mark Few after the game, all with the stoic eyes of men accustomed to these sort of wins. But Wiltjer's tweet from the locker room a few minutes prior suggested they might, just might, have been masking a little excitement.
Yes, that is Mark Few doing a handstand or something very close to a handstand.
The Zags head onto Houston for a matchup against UCLA on Friday (4:15 pm on CBS), who they already dismantled back in December. Wiltjer said there's a treat waiting for the team down in Texas.
"Tonight we were extra motivated because we were going to dinner last night and we passed one of my favorite restaurants, Benihana...So I was like, 'Coach, we should to go to Benihana.' And one of our assistants said, 'Hey, if you get the win tonight, we'll go to Benihana in Houston.' So I was extra motivated because now we get to go to Benihana. So I'm hyped," said Wiltjer.
It's surprisingly what a little corporate Japanese cuisine will do to get young men motivated.