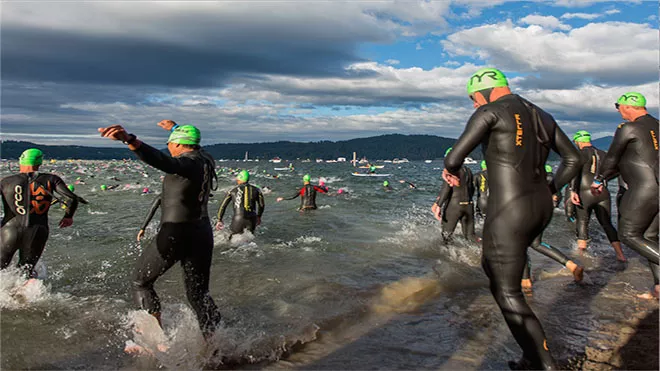 Ironman officials announced today that they are moving their Ironman Coeur d'Alene triathlon to late August next year. At first you may think the move is to avoid things like the ridiculous heat participants will face this year (which forced them to
bump up the race times
), but it turns out there are other reasons. They aren't, in fact, running away from June weather because they are introducing an entirely new triathlon, Ironman 70.3, in the regular time slot.
Ironman 70.3 will take place on June 26, 2016. This race gives a wider audience a chance to participate because it's only one loop of each discipline instead of two like the original Ironman race — meaning the new triathlon is half the distance of the existing Ironman. Another plus is that 70.3 CdA is the same course as the original, so athletes can train for Ironman CdA by participating in the added triathlon.
Another reason to move Ironman Coeur d'Alene to the new date of August 21, 2016, is that organizers hope Lake Coeur d'Alene will warm up throughout the months prior to the race day. As Ironman athletes have to swim two whole loops in the chilly lake, this change is sure to be a welcomed one when those loops come in August instead of June.
For those of you who like to be ahead of schedule, general registration will open on Monday, June 29, for Ironman Coeur d'Alene and Monday, July 6, for IRONMAN 70.3 Coeur d'Alene.
Also announced was the
extension of Ironman Coeur d'Alene
through 2020.