The three finalists for the Spokane Police Ombudsman made their rounds from forums to luncheons to public interviews throughout the past two days as the city got a little closer to filling the long-vacant position. The Office of Police Ombudsman Commission announced Thursday evening that it will hold a meeting September 1 for comments from the public, and a decision could be made as soon as September 9.
The three candidates are:

Raheel Humayun
, an investigator for British Columbia's Office of the Ombudsperson. Humayun was also an instructor with the Justice Institute of British Columbia and a forensics investigator for the Royal Canadian Mounted Police. Of the three, he is the only one who hasn't been a law enforcement officer.
Robert Breeden
is a former law enforcement officer of 32 years in Florida. Most recently, Breeden was a special agent in charge of the Florida Department of Law Enforcement in Miami.
Allen Huggins
has 30 years of experience in law enforcement, the majority of those in Costa Mesa, California, where he retired as a captain in 2013. Huggins also has experience as an Internal Affairs investigator, and now runs a private investigation business in Coeur d'Alene.
Thursday, candidates answered questions from stakeholders and community members starting at 9 am and ending in a public interview with questions from the ombudsman commission.
During the Thursday afternoon forum, comments by Huggins on a
Wall Street Journal
article elicited some concern.
When asked if his effectiveness as the next ombudsman could be impacted by his criticisms of the Black Lives Matter movement, Huggins said: "I care about all lives, and I care about people who are mistreated, and who've had an issue with the police. It doesn't matter what race they are to me. What matters is what the treatment was."
"My frustration is that this movement is selective about what they chose to say, but ignore the elephant in the room, which is black kids as the victims of other black kids through gang violence," Huggins told the
Inlander.
"Where are they for that? Why aren't they doing something to stop that."
Here is Huggins' comment on an
article
about violence in Baltimore following the death of Freddie Gray: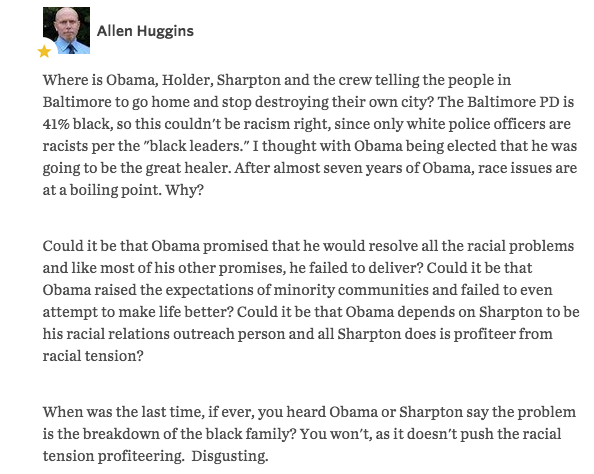 Here is Huggins' comment on an
article
about the feds coming to help Baltimore Police Department's homicide unit:
For his part, Breeden caught some flack for an internal investigation at the Florida Department of Law Enforcement in 2014.
He retired from his position of special agent in charge of the organization rather than take a demotion when a six-month internal investigation found he "violated numerous policies," and created a "hostile work environment," according to the
Florida Bulldog
. Those interviewed during the investigation described Breeden as a "nightmare boss: a
potty-mouthed micromanager
who blew his stack over office minutiae and bullied subordinates, high-ranking peers and cops from other agencies."
Breeden has denied the findings in the investigation and said it was initiated by his superior, Addy Villanueva, in response to a complaint he filed about her. He later filed a whistleblower complaint alleging he was forced out.
No concerns about Humayun's background were raised, according to the
Spokesman-Review
.
Despite the concerns raised throughout the day, ombudsman commissioners say they're now faced with a difficult decision.
Commissioner Deb Conklin says one big takeaway was a discussion Thursday evening about the standard of proof for use of force investigations.
All three candidates agree that the standard of proof being used in internal use of force investigations, which result in administrative sanctions and not criminal punishment, is too high. Currently, an investigation must prove beyond a reasonable doubt that an officer acted outside of policy and procedure.
"For police misconduct, why isn't a preponderance of the evidence the standard?" Huggins said. "If that's the standard used, it's no wonder there are problems finding fault with an officer's use of force [in Spokane]."
Both of the other candidates agreed.
That means if the police department doesn't take the initiative to charge the standard, that will be the new policy and procedure recommendation that comes out of the commission in the near future, Conklin says.
Conklin and Commissioner Scott Richter say the decision will still be tough even in light of the questions raised during Thursday's forums. Each of the three have their own disqualifiers, Richter says, referring to the fact that Humayun would require a work visa which could take months.
"I'm just glad I don't have to make the decision alone," he says. "But I'm livid that it's late August and we're just now doing this. We should have started the process of hiring an interim ombudsman immediately after Tim Burns left."