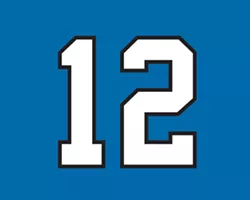 So if you're like me, you don't like Mondays, mostly because of their far-off proximity to the weekend and also because Garfield told you at a young age that
Mondays suck
.
But isn't it nice on this particular Monday to realize that the day is capped off with a Seahawks game? In case you didn't know, the Seahawks play the Lions on
Monday Night Football
(ESPN, 5:30 pm) and that's why I started my day by putting out my 12th Man flag, eating a hearty game day breakfast and preparing mentally for the Hawks battle over in Seattle this evening. Oh, and mentally preparing for a productive work day, too, of course.
This got me really pumped up, and it should do the same for you.
Seattle hasn't done so great in prime-time games as of late. There was the Sunday night loss in Green Bay a couple weeks ago and then that whole, uh, Super Bowl thing back in February. But you can take comfort in knowing that the Seahawks are very good when playing on
Monday Night Football
. In fact, no other NFL team is better than the Hawks on Mondays, not by a long shot.
The franchise is 21-8 on MNF
, good for a .724 winning percentage — the next winningest record is San Francisco at just .642.
So that's a good sign of how things will shake out at CenturyLink Field tonight. Also good for the Hawks is the fact that they're playing the Detroit Lions who have been very much like the Detroit Lions of old this season, starting out at 0-3. The Lions, though, are not a pushover, despite that record. They have receivers Calvin Johnson and Golden Tate, the latter of whom will make his first return to Seattle since leaving the team after the 2013 season. If Lions quarterback Matthew Stafford finds those guys for big plays — of which the Hawks have given up a few, especially in their first two losses — Detroit could hang in there.
Stafford won't have to deal with Seahawks defensive lineman and terrorizing pass rusher Brandon Mebane, though. Mebane is ruled out for the contest with a strained groin. Also on the injury front, there will be no Beast Mode tonight. Marshawn Lynch has an issue with his hamstring and is going to sit out tonight. As a Beast Mode devotee, I find myself strangely OK with this. First off, Marshawn hasn't looked full-speed out there as of late and clearly he needs to rest. Secondly, I don't mind backup running back Thomas Rawls. Sure, he's a rookie from Central Michigan, but he went for 105 yards last week and is a gritty runner.
The Seahawks will need Rawls to be productive in order to set up with passing game, which seemed to finally come to life in the second half of their 26-0 beating of Chicago last week. Hopefully Doug Baldwin and Jermaine Kearse will finally get going. And Jimmy Graham will get the goddamn ball. Don't worry about it, OK?
Hopefully you're in appropriate Seahawks gear at your place of employment today. Kinda like this dude.
COUGARS DID NOT WIN
Moving on to the college game, Washington State could not pull off the win down in Berkeley on Saturday afternoon, losing to Cal 34-28. It was a frustrating loss for the Cougs, mostly because they had a chance to win against the 24th ranked team in the country. In fact, they had a lot of chances, thanks to some Cal miscues, but Luke Falk and company could not punch it in on a pair of fourth quarter drives that could have put them ahead.
Something to note in this one: Yes, the Cougars are a passing team. Ya know, Air Raid and all that. But holy crap, they only ran for 14 yards in this game. And that was on 25 attempts. So they actually tried to run the ball and that's what they got.
It was the Cougars' 28th loss in their last 29 games against ranked opponents. They head to Eugene on Saturday to visit a struggling Oregon team that is not great on covering the pass — so that could be an upset to keep an eye on.
NEITHER DID THE VANDALS
Idaho went to the deep South — which is where they'll about every other week for the rest of the season, due to their inexplicable membership in a conference of Southern teams — and did not win. The Vandals
lost to Arkansas State 49-35
to fall to 1-4 on the season. They tried a new quarterback, Jake Luton, but that didn't help change Idaho's fortune. He threw three interceptions
.
They'll try to get their first win against an FCS opponent next week when they head back south to face Troy.
THE MARINERS ARE FINALLY DONE, THANK GOD

The Seattle Mariners' grand experiment in disappointment came to an end yesterday with a meaningless 3-2 win over the hapless Oakland A's. The win brought their final record for the season to 76-86, which is about 25 wins shy of where a lot of us thought the M's would end up this year.
Can you believe this is the same team that not just hopeful fans like myself, but real live
experts
thought would make it to the World Series
? It looked like they finally had the offense to make it somewhere, but unfortunately Robbie Cano and others forgot how to hit for the first half of the season and their bullpen was like something out of a
Roland Emmerich movie
. Even King Felix wasn't always that kingly.
Finally, though, the Mariners can no longer hurt us on a daily basis with their improbable extra-innings losses. As for next season? Who the hell knows. They've got a new GM and should have their stars back, but after this year, I have no hope in anything anymore.