Fired Spokane Police Chief Frank Straub
isn't going to go down quietly
. Instead, he's suing the City of Spokane, Mayor David Condon, City Administrator Theresa Sanders and City Attorney Nancy Isserlis for
$4 million dollars
for violating due process in the way he was terminated.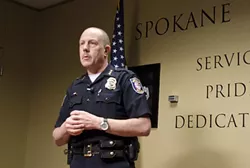 To be clear, that's the same Nancy Isserlis
who's currently Straub's boss
. In a fiery letter Oct 2, (the day after this
Inlander
cover story
was published) Straub attorney Mary Schultz calls the firing of Straub a "hatchet job," "politically motivated railroading" and "a premeditated and engineered plan to elevate the mayor's decisiveness quality at the expense of Frank Straub's reputation."
"City administration undercut his authority, coddled mutiny, and subversively managed cancerous factions to its own perceived advantage," Schultz wrote.
In particular, she takes aim at the information the city released in conjunction with Straub's firing. Schultz says they "bludgeon[ed] him with this press release process," and "intentionally distributed these damning allegations." She says the city promised Straub payments and benefits "in exchange for his work on his own burial announcement — your press release."
The letter further calls into question the timeline presented by Sanders. Sanders told
Spokesman-Review
reporter Nick Deshais that the decision to fire Straub came "
six seconds before
" a press release was sent out on 4:37 pm on Tuesday, Sept. 22. Schultz claims that Straub had already been terminated the day before.
"That's clearly not true," Schultz says to the
Inlander
when asked about Sanders' comments on the timeline. "The history doesn't support that."
Similarly contradicting Sanders' claim, in a statement Thursday evening, Mayor Condon said, "We received a signed resignation letter Tuesday morning, but because of a pending claim cannot comment further."
Condon's opponent Shar Lichty didn't hesitate to pounce: "It is apparent from the numerous versions the media and public have been given in regards to the 'resignation' of Frank Straub that we may never know the truth," Lichty said in a statement Friday morning. "The truth doesn't change and yet we continue to get conflicting and ever changing statements from the Mayor's office."
IN OTHER NEWS
The two-decades-long battle for compensation from who lived
downwind from the Hanford nuclear plant,
and suffered because of it, has finally come to an end, Northwest News Network reporter Anna King explains. All 3,000 of them have either
settled or dropped their claims
.
After
handily losing a defamation case
against
Mother Jones
, famously litigious Idaho political donor Frank VanderSloot is far from cowed. In fact, he promises to establish a $1 million fund for conservatives to sue liberal papers in the future.
"I will be urging others who share my (and the Court's) view about the press's pattern and practice of character assassination to contribute to the fund as well," VanderSloot writes in a
statement
.
Black-sounding names make white people make
racist-sounding assumptions
. "I've never been so disgusted by my own data," the study's author said.
"I will not be a candidate," former VP candidate Paul Ryan said when Rep. Kevin McCarthy announced he would not be running for Speaker of the House. The
Washington Post
explains
why he might be a candidate anyway.